Fidelity Communications Offers 1 Gigabit Internet Service to Five New Communities
Press Release
•
updated: Mar 4, 2019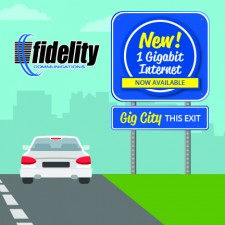 SULLIVAN, Mo., March 4, 2019 (Newswire.com) - Fidelity Communications is happy to announce the addition of five new locations to its growing list of Gig Cities: Harrisonville, Missouri; Atlanta, Texas; Carthage, Texas; Maumelle, Arkansas and Beebe, Arkansas. As of today, Fidelity offers 1 Gigabit Internet speeds to residential and business customers in 12 of the communities it serves.
"Fidelity makes a habit of leading the charge in available speeds in our service areas," explains Paul Winkeler, Internet Product Manager. "Last year, we began offering 50 Mbps speeds as our entry speed for residential fiber and cable customers; 75 Mbps to businesses. Two years ago, we launched 250 Mbps speed capabilities in all of our markets."
Fidelity Communications began offering dial-up service in 1997. Since then the company has been dedicated to improving the services and communities served. While the company no longer offers dial-up Internet, it continually upgrades, replaces and adds to the infrastructure, from a full system upgrade in Lawton, Oklahoma to a complete overbuild of fiber technology in Adrian and Buffalo, Missouri. In 2018, Fidelity also launched 1 Gigabit services in Sullivan, Missouri and West Plains, Missouri in 2017.
"As we see more devices in the household needing connections, we are also seeing the demand for additional bandwidth increase," states John Walburn, Vice President and Executive General Manager. "It isn't just a laptop or tablet that is connecting to the Internet anymore. These days washers, smart speakers, picture frames, security systems, and gaming consoles all need a connection. Fidelity's 1 Gigabit Internet ensures customers can browse, stream, download, and game all at the same time, with enough bandwidth to keep every device connected."
With the adoption of IoT devices and the growth of video streaming, customers require more Internet bandwidth. Fidelity believes launching 1 Gigabit speeds will help ensure customers are receiving the best and most reliable experiences. The launch of the new Gig Cities furthers the company's continued mission of providing innovative technology and a superior customer experience in the rural communities it serves.
Source: Fidelity Communications
Related Media