Fidelity Communications Now Offering 1 Gig Internet in Sullivan, MO
Press Release
-
updated: May 9, 2018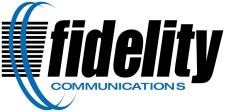 SULLIVAN, Mo., May 9, 2018 (Newswire.com) - Fidelity Communications is pleased to announce that they are offering 1 Gigabit per second (1,000 Mbps) Internet service in the city of Sullivan, Missouri. Fidelity is proud to be a market leader in delivering outstanding, innovative technologies that increase opportunities and support growth in the communities they serve.
Gigabit internet speeds provide increased connectivity, higher-quality communications, and fewer and shorter wait times for download and streaming services. Higher speeds support more wireless devices, high-end gaming, multiple video streams, and rapid data transfers—services that provide customers with the seamless online experience they've been looking for.
"We have been working extensively on our Sullivan infrastructure to prepare for the 1 Gig launch, and we couldn't be happier to bring this incredible service to our hometown," said John Colbert, President of Fidelity Communications. "Sullivan is our fourth Fidelity Communications Gig City, joining West Plains, Missouri, Buffalo, Missouri and Adrian, Missouri where we launched 1 Gig services in 2017."
Bringing Gigabit speeds to residential consumers requires a serious investment in the local economy, an investment that Fidelity believes will deliver a number of benefits to the Sullivan community. Over the past several months, Fidelity completed network upgrades, acquired 1 Gig-capable customer modems, and freed up the bandwidth necessary to support the new 1 Gig speeds. These improvements allow Fidelity to provide convenient and easy-to-use Internet services for all their Sullivan customers.
Fidelity's transition to Gigabit Internet service means that they will now be offering only two speed packages to their residential customers in Sullivan; 100 Mbps, starting at $29.99 per month for the first year; and 1 Gbps, is a flat rate $79.99 per month. Both speeds include free WiFi and no additional fees, though taxes may still apply.
All new customers will select one of these two high-speed packages. Fidelity is currently reaching out to existing customers to assist them with their move over to one of the two new speeds. Fidelity has said that their customer service team welcomes any phone calls from current customers and they will gladly explore what new options are available for each client.
Fidelity delivers fast, reliable and affordable high-speed internet, video and phone services. For more information about Fidelity Communications, visit FidelityCommunications.com.
Source: Fidelity Communications Co.
Share:
---
Categories: Telecommunications
Tags: 1 gig, Fidelity, Gig, Internet, Midwest, Missouri, One Gig, Sullivan
---