Fertility Advisors Planning Hill Days in Ottawa
Press Release
•
updated: Oct 15, 2019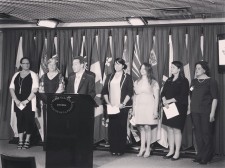 OTTAWA, Ontario, October 15, 2019 (Newswire.com) - Fertility Advisors, established in 2017 quickly grew as an Advocacy Group with over 30 Registered Members. The group consists of Physicians, Fertility Lawyers, Surrogates, Egg Donors, Intended Parents, Surrogacy and Donor Agency owners, and Therapists who work with those accessing Surrogacy, and Gamete Donation.​
Since Fertility Advisors inception, the group has met with over 150 Members of Parliament in Ottawa, discussing the Decriminalization of Surrogacy. The last piece of Women's Reproductive Rights, inside of the criminal code. The Group also was actively involved in the promotion of Liberal MP Anthony Housefather's Private Members Bill aimed at the Decriminalization of Surrogacy and Gamete Donation.
Fertility Advisors is looking forward to continuing to advocate for Anthony Housefather's Bill, and to become active in Ottawa, meeting with newly elected Members of Parliament after the Election.
Leia Swanberg, the Founder of Fertility Advisors had hoped that the Decriminalization of Surrogacy and Gamete Donation would become a platform issue, as well as taking on Fertility Treatments as a National Health Initiative, as it affects so many Canadians, both Heterosexual couples/people, and those in the LGBTQ+ community. While Leia is concerned that this topic has been missed altogether, she continues to have faith in Mr. Housefather's bill, and hopes to see it enacted into law in 2020.
For further information on the advocacy work of Fertility Advisors, please follow them on Facebook, or contact their office at 613-439-8701.
Source: Fertility Advisors