Fertility Advisors is Reminding Canadians That They Can Make a Difference in AHRA Amendments
With Health Canada Round Table discussions starting next week, Fertility Advisors urges Canadians to make their voice be heard.
Press Release
-
updated: Nov 16, 2018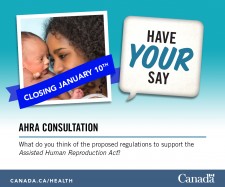 TORONTO, November 16, 2018 (Newswire.com) - In 2017, Fertility Advisors began lobbying the Canadian government to decriminalize the payment of surrogacy and gamete donation with Liberal MP Anthony Housefather. They were also joined by numerous fertility lawyers, physicians, agencies, surrogates, egg donors, and parents through surrogacy, as well as other members of parliament in support of amending the Assisted Human Reproduction Act (AHRA).
Surrogacy and gamete donation in Canada is legal, but providing compensation beyond expenses is prohibited. Intended parents can face up to 10 years in prison and $500,000 in fines. The regulations under the AHRA are often confusing and contradictory, which has caused many hopeful Canadian parents to seek surrogacy and gamete donation services in other jurisdictions such as the United States.
"To me, being able to help someone achieve their dream of becoming a parent is a great honour and it is also an immeasurably empowering experience for me," an emotional Jennifer Worsdale told a room full of reporters. Worsdale is a surrogate of five children and experienced egg donor, as well as a married mother of three children.
Health Canada published consultations on proposed assisted human reproduction regulations on October 27, 2018, and has asked for feedback from stakeholders and interested parties. Fertility Advisors is grateful that they finally seem to be taking into account what Canadians utilizing the services of assisted human reproduction need.
It's important for those involved in assisted reproduction in Canada to make sure their voices are heard; these draft regulations are not enough for surrogates, gamete donors or intended parents. The draft regulations do not include any coverage for surrogates groceries, even though Health Canada encourages a specific diet during pregnancy. They also do not account for lost wages for egg donors, who will need to miss at minimum 2 hours of work per day for two weeks during the monitoring and medical process. The regulations as drafted will not only deeply affect those seeking assisted reproduction but may also disrespect the women and men involved in the process as surrogates and donors.
Canadians are encouraged to review the proposed regulations and to provide comments to Health Canada by January 10, 2019. More information on the multiple ways to participate in this consultation can be found on Health Canada's website.
Source: Fertility Advisors
---
Categories: Healthcare
Tags: Canadian Health, Health Canada, Regulations
---