FERI DESIGNER LINES -the Fastest Growing Luxury Lifestyle Brand -UNVEILS SPECTACULAR 'NATURE'S ARCHITECTURE' COLLECTION
Press Release
-
May 16, 2016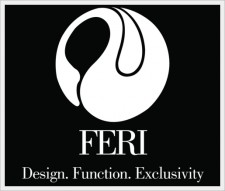 Toronto, Canada, May 16, 2016 (Newswire.com) - FERI DESIGNER LINES recently unveiled its latest collection of luxury shoes, women's handbags and men's briefcases, jewelry and timepieces to unanimous raves in a recent runway show. This collection is inspired by "Nature's Architecture", the various statement accessories, jewelry and leather pieces for men and women are being lauded for their timelessly sophisticated designs, brilliant textures, exceptional quality, as well as for reflecting the lavish lifestyles of the brand's core market. Must-haves included scintillating jewelry, bags in buttery soft ostrich, mini-cross body bags, fold-over bags and evening clutches along with custom monogrammed accessories. The shoes were also a major hit for blending glamorous looks with superior comfort, balance and full body support.
"We're so excited to finally showcase the new collection and thrilled by the overwhelmingly positive response from everyone who saw it," says CEO/Founder Ramin Mesgarlou. "With the new collection we want to emphasize our official motto of – If it exists, make it better and if it doesn't, create it!" Chief Designer and Senior VP Sanaz Hooman adds, "We spare no expense or effort in developing each piece in the collection.  Everything has to be perfect – from design to materials, from the sole to the heel. We like to say, we don't just do shoes, we do transport for your feet." Each pair is meticulously handcrafted by European artisans out of the highest grade Italian leather materials and rigorously tested for comfort and durability. Ramin also promises that this is just the beginning for the brand as they explore new offerings, elevated production standards, competitive price points, and setting new trends.
"With the new collection we want to emphasize our official motto of - If it exists, make it better and if it doesn't, create it!"
About FERI DESIGNER LINES
Founded in 2005 by CEO Ramin Mesgarlou, Feri Designer Lines is the fastest growing luxury brand posting annual growth in the past decade with an unparalleled 190% in 2015 for products sold in over ninety countries worldwide.  The consistent performance places it as the fastest growing and expanding luxury lifestyle brand and design house in the world, while Burberry Group comes in at a distant 2nd place with a mere 54% growth. Manufacturing the finest quality jewelry, handbags and wallets, timepieces, opticals and sunglasses, and shoes, the brand is the pride of Ramin who hails from a renowned family of jewelers since the late 1800s. The Canadian based brand's success has also been marked by several industry awards and continues to develop new collections and products as bestsellers in the global luxury market.
www.feridesignerlines.com
For additional information, to request a look book and product placement opportunities, please contact, Jody Green, Frame PR, 917/292.7070, jody@frame-pr.net.
Source: Frame Public Relations
Share:
---
Categories: Business to Business, Business to Consumer, e-Commerce, Fashion and Apparel
Tags: accessories, affluent clientele, e-commerce, expansion, fashion, fine jewelry, handbags, luxury, luxury lifestyle brand, shoes, sunglasses
---