Feniex Industries Wins Five Awards in the Annual 2019 CEO World Awards Program
Company Founder and CEO Hamza Deyaf Named Business Role Model of the Year and CEO of the Year in Manufacturing
Press Release
-
updated: Aug 6, 2019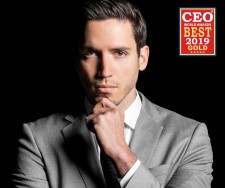 AUSTIN, Texas, August 6, 2019 (Newswire.com) - Feniex Industries, a manufacturer of innovative, American-made products for emergency response vehicles, today announces its founder and CEO Hamza Deyaf is honored to be named Business Role Model of the Year and CEO of the Year in Manufacturing by the CEO World Awards program. In addition to being named the Gold Winner of the CEO Achievers category, Deyaf was named the Silver Winner in the Champion of the Year, the Bronze Winner in the overall CEO of the Year category and the Top CEO of the Year Bronze Winner in The Visionary Category.
The program encompasses the world's best in leadership, innovation, organizational performance, new products and services, CEO excellence studies, corporate social responsibility, and milestones from every major industry in the world. Organizations from all over the world are eligible to submit nominations. Judges from a broad spectrum of industry voices from around the world participated and their average scores determined the 2019 award winners.
"It is an honor to be personally recognized for these awards, but the true recognition goes to our incredible team of one hundred plus individuals who pour their passion and pursuit of excellence into every facet of our business," said Deyaf. "Without the dedication and commitment of the individuals whom I am honored to lead, Feniex wouldn't be the fastest-growing company in the emergency warning industry."
Deyaf's success in achieving "30%+ year after year growth in a saturated market," was noted by the CEO World Awards. "Innovation isn't easy," added Deyaf. "It takes courage and commitment. 'Company culture' and 'purpose' are ideas thrown around casually, but when your products show up on the worst day of someone's life those words take on a whole new meaning. At Feniex we're changing an entire industry and there is no limit to our potential." 
Feniex and other winners will be honored October 28 during the annual SVUS Red Carpet Awards Ceremony Dinner in San Francisco attended by the finalists, winners, judges and industry peers.
About the CEO World Awards
The CEO World Awards are an annual industry and peers recognition program honoring CEOs and organizations of all types and sizes in North America, Europe, Middle-East, Africa, Asia-Pacific, and Latin-America. The Annual CEO World Awards program is part of the SVUS Awards® recognition program from Silicon Valley in the United States of America which also includes other programs such as Consumer World Awards, Customer Sales and Service World Awards, Golden Bridge Awards, Globee Awards, Info Security PG's Global Excellence Awards, Network Products Guide's IT World Awards, Pillar World Awards, PR World Awards, and Women World Awards. Learn more about the CEO World Awards and see the complete list of winners at https://ceoworldawards.com/winners/2019-winners.
About Feniex Industries
Feniex Industries changes lives by manufacturing innovative, American-made products for the world's toughest jobs. Feniex products are designed, engineered, tested and manufactured at our facility in Austin, Texas. From full-size lightbars to interior lights to sirens, speakers and controllers, Feniex is proud to offer the world's best and most affordable life-saving technology for any emergency response, public works or off-road vehicle.
Feniex. Innovation at its brightest.
To learn more about Feniex, visit https://www.feniex.com
Source: Feniex Industries
Share:
---
Categories: Production and Manufacturing
Tags: american manufacturing, entrepreneurship, first responders, manufacturing
---