Fathom.fm Launches New Version of Revolutionary AI-Powered Podcast Player—Now With 'More Future'
Press Release
•
Jan 6, 2023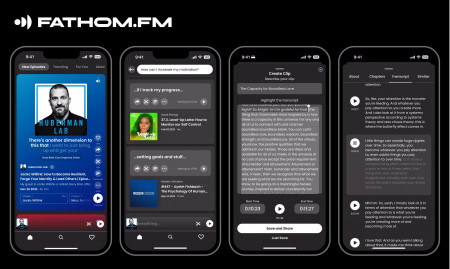 SACRAMENTO, Calif., January 6, 2023 (Newswire.com) - Fathom.fm is disrupting the podcast player ecosystem again by introducing more powerful AI functionality into the podcast listener's experience. With Fathom, listeners get more out of their podcasts, especially those who like to "go deeper".
When first launched in 2022, Fathom listeners could effortlessly discover new podcasts using a feed of podcast "highlights"—AI-generated previews of podcasts tailored to their interests by Fathom's AI. Listeners could also ask natural questions such as "How can I improve my focus?" or "What is the future of AI?" and instantly listen to short clips from podcasts that answer the question.
Now Fathom has been completely re-designed to include both game-changing features (like creating custom clips and AI chapters) and daily driver features (downloads, much faster UI), so Fathom easily replaces listeners' go-to daily podcast player. Let's dig into what's in this new redesign:
Clip sharing
Fathom's podcast player will now allow users to create custom "clips" so that they can share their favorite moments with friends. Fathom uses "smart clipping" AI technology to automatically capture the main idea of that moment, so listeners can confidently save the right moments with just a tap.
Chapters
Listeners can now easily browse chapters defined by podcasters or using Fathom's dynamically-generated chapters. Fathom's chapters are generated in an intelligent way, based on the ideas within the podcasts. Listeners will be able to instantly swipe through any episode's chapters to get an idea of what it's all about.
Transcripts
Listeners can now browse a podcast's entire transcript (generated by AI). Reading a long podcast is as intuitive as skimming through an essay or a book.
Power Drawer
From anywhere on the home screen, listeners can now easily pull down a "power drawer" that contains all of their favorite podcasts, all of the episodes they haven't finished, and all of their "stations", which are custom feeds of podcast highlights to help listeners discover podcasts in more personalized ways.
For those already experienced with Fathom's player, they'll find a multitude of improvements that have hit every part of the app, including improvements to search and recommendations, episode downloads, a sleep feature, and new episode notifications.
To experience the Fathom podcast experience, download the iOS app by visiting https://fathom.fm.
Source: Fathom.fm