Fastbase, Inc. Will Predict the Future With Its New Google Analytics Add-on Feature
Press Release
-
updated: Dec 19, 2017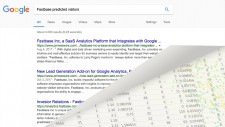 NEW YORK, December 19, 2017 (Newswire.com) - Expanding its comprehensive portfolio of web analytics products, Fastbase, Inc. announced today the launch of its new "Predicted Visitor" software that uses Artificial Intelligence (AI) to predict which companies may visit a website in the future. After launching in 2016, Fastbase, Inc. has continuously developed new SaaS tools, including Web Leads and G-Leads, providing organizations with actionable insights in real-time. Using Fastbase, Inc.'s new proprietary software, businesses will be able to make intelligent predictions on future customers, transforming marketing strategies and enhancing customer experiences.
Fastbase, Inc.'s new software is powered by advanced machine learning algorithms that analyze the online behaviors and actions of billions of website visitors, companies, and websites.
Fastbase, Inc. Founder and CEO, Rasmus Refer, emphasizes, "Our mission is to help B2B companies better understand their customers and to help them get in touch with the right people at the right time. With this new feature, businesses can better prepare their sales and marketing initiatives to reach the right customers, as best as possible."
Just as Google has created its "Google Trends" software, which, when used in conjunction with the Google Keyword Planner, identifies trends in interests and keyword phrases, Fastbase, Inc.'s new "Predicted Visitor" tool uses its advanced algorithm to identify leads that will most likely visit a business's website. The new software provides businesses with insights that will help enhance marketing and sales initiatives to ultimately create the best user experience for new customers.
With over $30 billion placed into Artificial Intelligence R&D each year and with both Google and Apple developing software that can predict human habits, Fastbase, Inc.'s new launch comes at a time when AI is starting to become ubiquitous in the digital marketplace. This sentiment is echoed in Forbes' article, 51 Artificial Intelligence Predictions for 2018, where contributor Dan Rosenberg, Chief Strategy Officer at MediaMath predicts, "In 2018, we'll finally start to see AI deliver on the omnichannel promise to make marketing that consumers — and others in the value chain — love. The technology is there — from players like IBM Watson and others — and now is the time to rally the right processes and people to put it in action."[1]
Fastbase, Inc.'s "Predicted Visitor" tool will be available in beta to all Google Partners at the end of January 2018 and to companies worldwide at the end of Q1 2018. Google Analytics users can sign up to Fastbase Inc.'s Web Leads for free to view their current website leads, while "Predicted Visitor" will only be available in the Web Lead's Premium Version.
About Fastbase, Inc.
Built upon Google Analytics software, Fastbase, Inc.'s software takes website visitor information to the next level by generating comprehensive lead reports that include extensive company profiles, visitor interaction, key employees with LinkedIn profiles and email addresses. The powerful insights provided by Fastbase, Inc. have drastically transformed B2B sales and marketing strategies, enabling B2B businesses to contact their online leads in real-time. "The digital marketing and advertising arena is expanding at an exponential rate. Fastbase has arrived in the market at the right time to support data-driven industries' targeting of and catering to their consumers," affirms Rasmus Refer, Founder and CEO of Fastbase, Inc. "Just as quick as Fastbase is growing, we are also investing heavily in R&D to advance our features and remain a competitive contender for SaaS Analytics in the digital marketplace."
Fastbase, Inc. has entered the digital marketplace with a very strong message: It's important to know your website's audience. Fastbase, Inc. continues to bring value to its software through continued research and development. The company's tremendous success has led them to get publicly listed in Q1, 2018 as one of the fastest-growing SaaS companies in the world.
[1] https://www.forbes.com/sites/gilpress/2017/11/28/51-artificial-intelligence-ai-predictions-for-2018/4/#aedf7b84d62f
Source: Fastbase, Inc.
Share:
---
Categories: Business to Business, Finance, Financial News, Stocks, Database Management Systems
Tags: B2B, Database Management System, Fastbase, Finance, Financial News, Google, Google Analytics, Google Trend, IPO, Private Placement, Stocks
---