Family Matters Law Group Releases Expert Advice on Celebrating the Holidays With Blended, Separated or Divorced Families
A Parent's Guide
Press Release
-
updated: Dec 19, 2018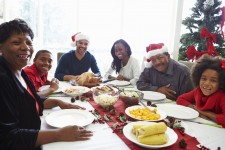 MORROW, Ga., December 19, 2018 (Newswire.com) - Family Matters Law Group has released its co-parenting guide, Celebrating the Holidays With Blended, Separated or Divorced Families, geared toward equipping blended, separated or divorced families with information on how to celebrate the holidays. This piece answers the most common questions asked by separated and divorcing parents about holidays and also takes an in-depth look at how to navigate holiday parenting time.
Holidays are a famously difficult time of year for divorced and separated families, but custody orders can ease the stress of holiday planning, as the details outlining holiday parenting time are included. Two experts in the field weigh in on emotional topics with pragmatic advice to parents on how to set, meet, and exceed the basic expectations of the court.
This guide focuses on how to celebrate holidays with a new family structure, how best to support the children during emotionally compromising events and how to effectively co-parent with ex-partners in order to provide a stable environment for the children. Parents who need help keeping kids first will find wise advice from Mrs. Aaron and Dr. Johnson, such as, "Spending money on children doesn't mean anything to them (kids) in the long run. They want time, opportunities to make fun memories, and affection."
Beneficial topics explored include what a holiday schedule and parenting plan is, how one is made and works, special considerations for holidays, overcoming conflict, developing a "new normal," and other holiday co-parenting considerations.
Family Matters Law Group was founded by Edidiong Aaron in 2012 as a vehicle to fight for people whose children, assets and money are under attack. Mrs. Aaron attended the University of West Georgia, serving on the Student Judicial Chair Board, and graduated with honors. She is a member of the illustrious organization, Alpha Kappa Alpha Sorority Incorporated.
Dr. Raushannah Johnson-Verwayne, aka Dr. RJ, is a licensed psychologist and the founder of Standard of Care Psychological Services in Atlanta. She earned her doctorate in clinical psychology from the Georgia School of Professional Psychology and specializes in psychological assessments and trauma-informed treatments. She is also a member of the illustrious organization, Alpha Kappa Alpha Sorority Incorporated.
Family Matters Law Group is known for their invaluable support of fathers' rights, fair custodial agreements and parents who believe they have no further recourse following a contentious divorce. Divorced or separated parents living in the metro Atlanta area (Henry, Clayon, Fayette and Fulton counties) can contact the office at Family Matters Law Group if they have questions about creating a holiday parenting plan or more generally regarding custody, divorce, fathers' rights, parenting time, legitimation or alimony.
Source: Family Matters Law Group, P.C.
Share:
---
Categories: Family Law
Tags: child custody, co-parenting, family law, holiday schedules, parenting time, visitation
---