Falcon Technologies International Hosts Global Optical Media Technology Industry Leaders in Ras Al Khaimah
Press Release
-
updated: Apr 22, 2017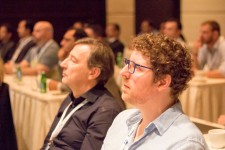 Ras Al Khaimah, United Arab Emirates, April 22, 2017 (Newswire.com) - ​​​​Ras Al Khaimah, United Arab Emirates, April 22nd 2017 -  Optical Media storage specialist Falcon Technologies International (FTI) recently hosted its international customer seminar in the Ritz Carlton Al Wadi Hotel, Ras Al Khaimah, UAE, from April 4th – 6th 2017. The seminar, which was attended by approximately 50 delegates who traveled from diverse locations such as France, Germany, Japan, USA and the UK, was the third such annual event which gathered together the key global players from the optical media sector together in Ras Al Khaimah to discuss the latest developments, opportunities and challenges present in the industry today.
Speaking at the event Mr. Michael Gutowski, CEO of FTI, said "Our customer seminar is a healthy indicator of the success both FTI and the wider Emirate of Ras Al Khaimah has been enjoying as a result of the vision and business acumen of His Highness Sheikh Saud bin Saqr Al Qasimi, Ruler of Ras Al Khaimah. Today we have dozens of representatives from some of the leading optical media technology companies worldwide, sharing their ideas, innovations and future plans for the shaping of the industry - all happening here in Ras Al Khaimah. Our seminar represents just one of many points in the impressive economic growth trajectory of our Emirate, and we are extremely positive about what the future holds both for FTI and Ras Al Khaimah as a global business hub".
The event was supported by RAK Free Trade Zone, who are one of the key Ras Al Khaimah government entities spearheading the economic growth the Emirate has been experiencing in recent years. Mr. Shahram Hashemi, Group Director of Strategy and Investments at RAK Free Trade Zone, presented to the delegates on the flexibility and ease of setting up a business within the Emirate, and the commercial advantages enjoyed by the many thousands of companies who have based their operations in Ras Al Khaimah.
FTI also took the opportunity to give a first screening their brand-new video "The Journey", which is unique film following the entire start-to-finish production of an optical media disc from the perspective of the disc itself.
Mr. Erwin Heinze, CEO of German digital media distributor Software Partner GmbH with whom FTI have been a key partner for several years via the supply of Premium, Dupli and Medigrade products, commented "Our visit to see FTI's facilities and enjoy their hospitality in Ras Al Khaimah was a great experience, perfectly organised and executed by FTI's committed team, and proved to be an excellent forum to both network with and discuss ideas with other key players in the optical media industry, and strengthen our relationship with FTI."​
About Falcon Technologies International LLC
Falcon Technologies International LLC (FTI) was established in Ras Al Khaimah in 2005 as a premium manufacturer of professional optical data storage media and archival solutions provider. Operating a 15,000 sq m clean room to the highest international standards, the company is certified by the international certification bodies of ISO, LNE, ICIM and RoHs. FTI offers its professional grade solutions to global brands, private labels, distributors and value added resellers, and has developed professional partnerships with prestigious international partners all over the world. FTI's product range of CD-R, DVD-R and archival solutions are tailored into specific product lines serving the Government, Corporate, Music, Entertainment, Medical, Healthcare and the Archival market sectors.
Please direct all media inquires to info@bigwheel.me or call +971 (0)52 712 1777. 
FTI Contact Information:
Mr. Bernardo Amato
Email: Bernardo.amato@falconrak.ae
Tel: +971 7 2446943
Fax: +971 7 2446937
Web: http://www.falconrak.com
Source: Falcon Technologies International
Share:
---
Categories: Music, Business Technology, Data Storage and Warehousing, Digital Media Recorders and Players, Business
Tags: Falcon Technologies International, Optical Media, Ras Al Khaimah, Seminar, Sheikh Saud bin Saqr Al Qasimi
---