FactGem and Prosper Insights & Analytics Partner to Give Clients Data-Driven View of Customers' Needs
Press Release
•
updated: Jan 8, 2019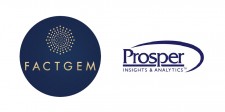 COLUMBUS, Ohio, January 8, 2019 (Newswire.com) - Today, FactGem, a leading data analytics technology company, announced its strategic partnership with Prosper Insights & Analytics, a provider of business intelligence and analytic solutions, to give clients access to a holistic, historic and predictive view of their customer. Clients can now connect disparate data, understand customer intentions and how their actions might impact day-to-day business.
Through the partnership, FactGem can connect Prosper Insights & Analytics' customer intention data, with information from an organization's data sets, to create a Single View of the Customer (SVC) – past, present, and future. By integrating all available data and joining typically disconnected silos, an entity can view all known facts about a customer – including demographics, customer service data, sales history and more – allowing companies to recognize trends, predict future customer needs and plan for the next moment in time.
With the combination of FactGem's no code technology and Prosper Insights & Analytics data, companies can work in the moment, pivoting business plans quickly, creating relevant promotions, fine-tuning inventory protocol, forecasting production needs, increasing industry competitiveness and activating marketing campaigns which integrate people's intentions.
"Consumers are the primary driver of our economy, but today's traditional consumer products model is not an efficient approach to the needs of the market," said Megan Kvamme, CEO of FactGem. "Our partnership with Prosper Insights & Analytics represents our core goal of providing clients the data to make faster and more informed decisions about their business and customers."
"The industry has been calling for an integrated solution, and we believe that FactGem and Prosper can provide a turnkey opportunity to better understand customers, and fuel enhanced marketing," said Phil Rist, EVP of Strategy, Prosper Insights & Analytics. "The implication for organizations of having this end to end SVC, connected to a look over the horizon, is significant."
About FactGem:
FactGem integrates your data sources in hours through the FactGem Data Fabric. We don't disturb existing applications. Data instantly connects according to the business rules that you create in our visual model builder. You no longer have to write expensive and time-consuming code to enforce business rules for your data. Easily and rapidly engage with your data to expose the gems that you have been missing. For more information, visit www.FactGem.com.
About Prosper Insights & Analytics
Prosper Insights & Analytics is a global leader in consumer intent data serving the financial services, marketing technology, and retail industries for the U.S. and China. The National Retail Federation uses monthly survey data provided by Prosper to track consumer behavior. By integrating a variety of data including economic, behavioral and attitudinal data, Prosper helps companies accurately predict consumers' future behavior to help identify market behaviors, optimize marketing efforts, and improve the effectiveness of demand generation campaigns. www.ProsperInsights.com
CONTACT
Alexis Marina
Geben Communication
alexis@gebencommunication.com
Source: FactGem
Related Media
Additional Links