Experience Croatia's Natural Parks This Autumn, Where Nature, History and Culture Intersect
Whether you're looking to hike, explore, swim and, in some cases, even sail in a national park, Croatia's natural wonders are worthy of discovering, especially when paired with visiting its stunning historic cities.
Press Release
-
updated: Sep 16, 2019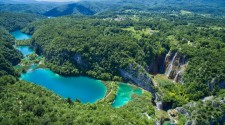 NEW YORK, September 16, 2019 (Newswire.com) - Croatia's stunning eight national parks continue to draw foreign tourists and make for the ideal and cool autumn vacation in Croatia. In years past, tourists were drawn to this southeastern European country for its history and culture. Examples include the southern Dalmatian town of Dubrovnik, where medieval walls meet the azure Adriatic Sea, the hip vibes of the island of Hvar, and the peninsula of Istria, where just-pulled-from-the-sea, fresh fish mingle on plates with decadent local truffles in the restaurants of historic coastal towns.
But, now, visitors to Croatia are starting to set their sights on the country's impressive national parks. There are eight in all, which is amazing considering the country's population is just four million. From Istria to the islands of central and southern Dalmatia and the inland just off the central coast, Croatia is sprinkled with eye-popping national parks that are certain to wow every visitor.
Starting in the northwestern part of the country, off the coast of the Istrian Peninsula, sit the Brijuni Islands. The erstwhile summer residents of Yugoslavian leader Josip Broz Tito, the small set of 14 different islands and islets has been a national park since 1983. Spend a couple of days in Istria, grazing on its exceptional Italian-accented cuisine (think ample amounts of seafood and truffles) and then hop on a quick ferry ride to the islands where you can gawk at Roman ruins and stroll around a safari park.
Moving east, Risnjak National Park is a haven for hiking, as trails are etched throughout the 25-square-mile park, which is situated in the Dinaric Alps. Home to wolves, bears, wild boar, deer, and lynx, Risnjak is the most forested and mountainous region of Croatia.
Want to stay longer than a day? Book a room at the Risnjak National Park Guest House, set in the picturesque mountain village of Cerni Lug, or the Jossip Schlosser Klekovski Mountain Hut, just below Risnjak Peak. And when you need some R&R after those steep treks in the park, retreat to the town of Opatija, a seaside town about 35 miles from Risnjak. The handsome town is dotted with Habsburg-era villas, as it was a favorite holiday spot for wealthy Austrians in the 19th century. Today, it is filled with comfortable hotels and wonderful seafood restaurants, including the new-to-the-2019-Michelin-guide Draga di Lovrana.
About 75 miles south of Risnjak sits the crown jewel of Croatia's national parks and one of the most visited sites in the country: Plitvice Lakes. Easily reachable from Zagreb to the east and coastal Zadar to the west, Plitvice (pronounced Pleet-veetsay) is made up of 16 stunning emerald-green lakes, all interconnected by waterfalls and babbling brooks. A UNESCO World Heritage site since 1979, the national park is a feast for the eyes and one could spend a few days hiking here.
Moving back to the coast, North Velebit has been an official national park since 1999. With 80 percent of the park's landscape covered in beech, sycamore and pine trees, North Velebit makes for a comfortable and shady place to wander on the many hiking trails that zigzag through the area. And bird watchers will delight in the fact that the park is home to about 100 different species of birds, including ravens, eagle owls and grouses. There are a few mountain huts that offer accommodation, and it is also easy to find a place to sleep in one of the nearby towns and villages.
If you're in Zadar for a few days, a visit to Paklenica National Park should be on your itinerary. Situated about 25 miles northeast of Zadar, Paklenica offers rugged peaks, limestone canyons, and picturesque views. There are 100 miles of hiking trails carved out beneath the beech and black pine trees. The tall limestone cliffs here attract rock climbers. In fact, 35 percent of the visitors to Paklenica come to climb.
Ever visit an island that is a national park? You can in Croatia. Meet Kornati National Park, a series of 89 different islands that have national park status. Eat fabulously fresh seafood at one of the 20 restaurants in the park, go diving and snorkeling in the clear and emerald waters, or just sail around the many diminutive islands. The park can only be reached by taking an organized boat tour via one of the many towns along the mainland or from other islands, including Zadar, Sibenik, Murter, Omis, and Trogir, among others.
Back on the mainland, Krka National Park is just eight miles east of the stunning seaside city of Sibenik. Krka is an aesthetically pleasing place to wander, as it is filled with lush waterfalls feeding into emerald-green pools. It's not too dissimilar to Plitivice, except there's one beneficial exception: at Krka you can actually swim in the ponds and lakes. So take a long hike and then reward yourself by jumping into the blue-green waters near Skradinski Buk falls. If you're based in the medieval town of Sibenik, be sure to make a reservation at Pelegrini, a Michelin-starred spot that is one of the best restaurants in the country.
Located off the southern Dalmatian Coast near Dubrovnik, Mljet National Park has the unique feature of being an island that happens to have a lake on it which happens to have an island in the middle of the lake (with a medieval monastery on it, in fact). One of the best things to do on Mljet is to rent a bike and pedal around the island, taking in the two saltwater lakes, Malo Jezero (Little Lake) and Veliko Jezero (Big Lake) – which are warmer than the ocean in summer, in case you brought your bathing suit. There are year-round ferries to Mljet from Dubrovnik, making it very accessible.
About Croatia
Stretching along the Adriatic Sea, just a stone's throw from Central Europe, Croatia is a country defined by a rich cultural legacy. Today, history perfectly combines with a youthful spirit and vibrant energy that proves irresistible to those seeking diversity. Breathtaking natural beauty, endless coastlines, diverse gastronomy, adventure, sports and wellness, can be enjoyed all year round. Whether exploring the old city of Dubrovnik, a UNESCO World Heritage Site, island hopping around the Split archipelago, truffle hunting in Istria, paragliding across the Plitvice Lakes, delving into Zagreb's streets and hidden passages, birdwatching in Kopacki rit, partying the night away at Zrce beach in Novalja or taking time out with the family on Zlatni Rat beach, there truly is something for everyone in Croatia. For more information, visit: http://croatia.hr
CNTB Media Contact:
Truc Nguyen
Croatia National Tourist Office - PR and Media Relations
truc@trucnnguyen.com / +1.646.531.4848
Source: Croatia National Tourist Office
Share:
---
Categories: Tourism
Tags: Adventure Travel, CNTB, Croatia, CroatiaFullofLife, CroatianNationalTouristBoard, Luxury Travel, National Park, Travel
---