Ex-JP Morgan Exec Launches FinTech Startup, Zoe Financial, With a First of Its Kind Offering That Reinvents How High Earners Find a "Household CFO"
High-Powered Algorithm Matches Millennials and Gen-X Earners with Fiduciary Financial Advisors
Press Release
-
updated: Feb 28, 2018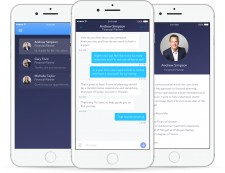 New York City, February 28, 2018 (Newswire.com) -  Zoe Financial, New York-based financial tech startup (founded by Andres Garcia-Amaya, former JP Morgan Global Market Strategist and part of the founding team of the highly regarded "Guide to the Markets") aims to transform how high-earners approach their personal finances, starting with their relationship with a financial advisor. Zoe has developed a high-powered algorithm that matches Millennial and Gen X individuals with their ideal "household CFO" from a curated network of elite, independent advisors.
Finding a financial advisor that's not a salesman but rather a "household CFO," can be challenging. Zoe's digital marketplace streamlines the process by helping high-earning individuals find their ideal advisor. Following a quick online assessment, individuals are connected with a best-in-class independent financial advisor, who is both a fiduciary and who is best suited to their specific needs.
What's more, the entire platform is available through a robust mobile app - prospective clients and advisors can begin communicating immediately via a secure chat function within the app, eliminating time wasted scheduling calls and meetings. Zoe makes the match and the relationship begins instantly.
"Zoe's mission is simple," says Andres Garcia-Amaya, CEO and Founder. "We want to empower individuals with the right information and the right experts so they can live the life they've always wanted."
The wealth management industry is rapidly evolving, but the desire for differentiated and trusted advice remains constant, particularly amongst high-earning professionals. At the same time, a new crop of high-net-worth individuals is entering a transitional phase in their lives - be it embarking on a new career, getting married, having children, buying a home, or going through a divorce - and they are struggling to find the type of financial guidance they need.
In a world where people have come to expect instant delivery, 24/7 access and bespoke solutions, Zoe saw an opportunity to provide Millenials and Gen Xers with a new approach to financial planning. Through their fully digital platform, Zoe takes the guesswork out of the complex financial equation and enables individuals to find the elite professional they need, using the digital tools and instant access they've come to expect.
"Identifying and connecting with an advisor who you not only trust, but who also meets your expectations, can feel like a nearly impossible task," says Andres. "The Zoe platform makes it easy. We connect you with the upper echelon of independent financial advisors that can take your financial journey to the next level."
About Zoe Financial
Zoe is a digital marketplace that empowers people to make informed financial decisions by hand-picking a vetted, unbiased and independent financial advisor, based on their specific needs.
For more information about Zoe, visit their site or their mobile app; or follow them on social media.
Contact Information:
Donna Abbey, Marketing Lead
Tel: (646) 847-2106
Email: donna@zoefin.com
Source: Zoe Financial
Share:
---
Categories: Finance, Personal and Family Finances
Tags: Fin-Tech, Financial advisors, Financial advisory, Financial planner, Personal Finance, Start-up, Top financial advisors, Top financial planners
---