Ewatt Aerospace Helps Police Explore New Ideas on Technology and Drug Control
Press Release
•
updated: Aug 24, 2018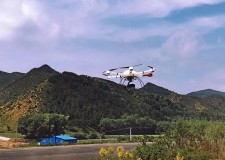 DIAMOND BAR, Calif., August 24, 2018 (Newswire.com) - From July 9 – 15th, Ewatt Aerospace helped to assist the anti-drug attachment of Wulanchabu City Public Security Bureau and the Kexin detachment by using drones to conduct "air-eye inspections" in areas such as LIangcheng County, Zhuozi County, Fengzhen City and Xinghe County to help crack down on illegal drug activity and drug-producing plants. The inspections were to help control and prevent illegal cultivation of poppy and other drugs.
In recent years, although the phenomenon of large-scale illegal cultivation of drug plants in China has been basically banned, there are still sporadic illicit cultivation problems in some areas. According to the "2016 China Drug Situation Report," issued by the National Narcotics Control Commission, 5,578 cases of illegal planted drug plants were uncovered in the country in 2016.
It is understood that these illicitly cultivated drug crops are very scattered and are generally hidden between mountains and forests. They're small in size and highly dispersible and concealed. The cost of eradicating these problems with strictly humanized searches is extremely difficult.
In response to a new situation of change, the means of public security drug-searches have been improved and high-tech satellite remote sensors and UAVs have appeared. Among them, drones are gradually becoming the main force of anti-drug smuggling in this new era, because of its flexibility, wide search range, high precision and low cost.
The anti-drug detachment of the Wulanchabu Public Security Bureau, the Kexin detachment and the UAV team dispatched by Ewatt Aerospace, cooperated with one another, using several multi-rotor drones, equipped with a 36X zoom photoelectric POD and a 30X zoom cloud platform. Deep into suspicious areas of township villages, Ewatt Aerospace carried out aerial surveys using UAVs and conducted on-site analysis of the drone transmission images through ground stations and conducted detailed investigations based on the coordinates of suspicious plots found, to prevent and detect criminal activities.
The director of the Public Security Bureau of Wulanchabu City said, "The effective use of scientific and technological means such as using drones, cannot only greatly enhance the efficiency of anti-drug work, but also form a wide-ranging influence in the local area, so that the local people can clearly understand unmanned aerial vehicles and other scientific and technological means."
It is understood that in order to enhance the local police's comprehensive understanding of unmanned aerial vehicles, the Ewatt UAV Anti-Virus team conducted science-based propaganda training for the relevant personnel of the Municipal Bureau during the inspection operation. Dozens of police types, including traffic police, criminal investigators, map investigators, and anti-drug professionals, participated.
Source: Ewatt Aerospace
Related Media