eUKhost Offers PersonalSign Digital Certificates to Prevent CEO Fraud and Other MITM Attacks
Press Release
-
updated: Jun 14, 2017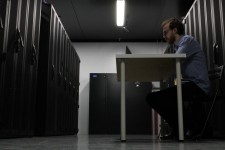 Leeds, United Kingdom, June 14, 2017 (Newswire.com) - Web host, eUKhost, announced today that it is to offer PersonalSign Digital Certificates that defend users from Man In The Middle attacks, such as CEO Fraud, by enabling users to send highly secure, digitally signed and encrypted emails.
A PersonalSign Digital Certificate uses unique, cryptographic credentials to help individuals and organisations validate their digital identity. They prove authorship and prevent tampering so that recipients can be assured the emails are authentic. At the same time, they use S/MIME technology to encrypt emails, preventing sensitive information from falling into the wrong hands. In this way, they prevent users and their customers from becoming victims of Man In The Middle attacks, such as CEO Fraud.
Robert King, Director, eUKhost said, "Globally, there have been over 12,000 victims of CEO fraud, costing businesses over $2 billion. One UK business lost more than £18M. By offering PersonalSign Digital Certificates, we are helping customers defend themselves against the alarming rise in these types of threats."
PersonalSign's S/MIME encryption provides eUKhost's customers with four essential security features: message integrity, authentication, privacy (via data encryption), and non-repudiation (via digital signatures). The technology it uses is supported by most mail clients, including Microsoft Outlook, Thunderbird, Apple Mail, Lotus Notes and Mulberry Mail. Recipients of PersonalSign emails see a red rosette icon on their emails which indicate their authenticity. This guarantees recipients that the emails are genuine and have not been tampered with by fraudsters.
A PersonalSign Digital Certificate can be purchased from eUKhost for an introductory price of £24.99 per year.
Source: eUKhost
Share:
---
Categories: Business Technology, Web Services, Information Technology
Tags: business email, cyber security, digital signatures, secure email
---