Establishing Certainty for Chief Financial Officers in the 'New' Normal, According to PressRelease.com
PressRelease.com encourages Chief Financial Officers for clear, transparent communication to steer corporate financial health and valuation through the impending economic recession.
Press Release
-
updated: May 26, 2020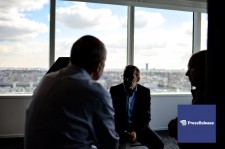 SARASOTA, Fla., May 26, 2020 (Newswire.com) - Chief Financial Officers (CFOs) face an overwhelming amount of pressure in navigating the new normal as the world aims for a vaccine for COVID-19. From the suspension of future guidance to new company appointments across a wide range of verticals, public and private companies tread cautiously with optimism that the economic recovery will happen sooner than later. 
The sobering reality is that the world has a "new" normal and that company communications must address the needs and requirements of their customers in order to fortify their market position. 
In a recent study by Edelman, brands must focus their messaging on solutions, not selling. The study later details that customers want brands to be a reliable source of news and information. In addition to study states, there is unanimity across markets (90% globally) that people want brands to do everything they can to protect the well-being and financial security of their employees and suppliers, even if it means substantial financial losses until the pandemic ends.  
"On the minds of many CFOs are how to safety reopen the economy and reboot businesses in order to emerge on the positive side of a post-COVID-19 era," said Erik Rohrmann, COO at PressRelease.com. "Having the ability to communicate effectively as restrictions across the country are slowly lifted is essential to continue the flow of information to customers and stakeholders. We are in an unprecedented time, but businesses that can pivot and reposition themselves on the upswing will reap the benefits long-term."
Regarding the need for better communication and compassion during this crisis, Contributor John Touey of Salveson Stetson Group shared insights in a recent article from CFO. CFOs must be cognizant that their people are looking to them for signals on how to react and respond during this crisis. In volatile times such as these, that responsibility becomes enormously heavy.
​CFOs carry the heavy responsibility to mitigate the effects of a declining profit trajectory by potentially reducing the workforce and restructuring the company to prevent further financial losses. PressRelease.com supports CFOs by providing a communications platform that adheres to regulatory compliance and distributes pertinent news to media and the financial community.
Through its partnerships with various leading distribution channels, PressRelease.com delivers trusted coverage and results across media outlets like MarketWatch, Bloomberg, Yahoo! Finance, Morningstar, CBS, ABC, FOX and NBC. 
For companies and Chief Financial Officers looking for simple, affordable financial press release distribution options, visit PressRelease.com to learn more.
About PressRelease.com
PressRelease.com provides simple, affordable press release distribution services to public and private companies through the most comprehensive networks and 1.8M media contacts.
Contact Information:
PressRelease.com
Media Relations
Office: 800-998-2927
Source: PressRelease.com
Share:
---
Categories: Business News
Tags: CFO, communications, press release, press release distribution
---