Environmental Company Regenesis Walks the Talk by Converting to Sullivan Solar Power
The bioremediation research lab in San Clemente switches from dirty to clean energy
Press Release
-
updated: Jun 15, 2017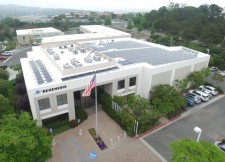 San Clemente, Calif., June 15, 2017 (Newswire.com) - Regenesis is an environmental remediation solutions company in San Clemente and recently joined the solar energy revolution after the installation of an 85,000-watt Sullivan Solar Power system. Sullivan Solar Power is the only Orange County company with the North American Board of Certified Energy Practitioner (NABCEP) Company Accreditation, the gold standard recognition in the solar industry.
Regenesis aims to be a leader in research for technology-based solutions for environmental contamination, and solar was a no-brainer. Some of Regenesis' projects have been to remove petroleum contaminants from former gas stations, help purify local groundwater and reduce the impact of harmful chemicals on the surrounding communities. While employees work hard to help develop remediation solutions to protect the environment and human health, they will now also be contributing toward a sustainable future in their own workplace.
"As an environmental company, going solar with Sullivan Solar Power reinforces a core value at Regenesis to focus on rehabilitating and sustaining the Earth for future generations," said Joy Gravitt, operations manager at Regenesis, "It shows that from product conception to application, we are conscious of our impact on the environment and are taking steps to minimize negative effects."
Regenesis serves over 26 countries with 20,000 completed projects. The new Sullivan Solar Power system will offset over 166 tons of CO2 emissions each year, which is equivalent to roughly 1,185 barrels of oil not consumed. In addition to the environmental benefits from solar, the financial savings will also be substantial. Regenesis is estimated to save $1,384,282 over the next 25 years, offsetting 63 percent of their electricity usage. Regenesis' Sullivan Solar Power system is comprised of 288 solar panels, with an expected useful life of more than 40 years. 
"Both Regenesis and Sullivan Solar Power work hard daily to lessen our carbon footprint to make a brighter future for next generations," said Daniel Sullivan, founder and president of Sullivan Solar Power. "We enjoyed working together to help Regenesis declare energy independence to show other San Clemente businesses that there are financially attractive alternatives to fossil fuel."
For more information about the Regenesis solar project, visit www.sullivansolarpower.com. To learn more about Regenesis, visit www.regenesis.com. 
Source: Sullivan Solar Power
Share:
---
Categories: Energy, Environmental Protection, Alternative Energy, Environmental and Waste Management, Environmental, Biochemistry
Tags: bioremediation, clean energy, environment, fossil fuels, Orange County, Regenesis, San Clemente, Solar, Sullivan Solar Power
---