enChoice to Provide Digital Transformation Software and Support to the Rhino Protection Program
Press Release
-
updated: Nov 8, 2018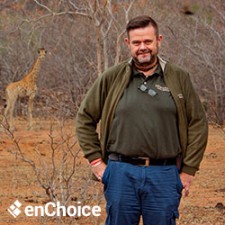 TEMPE, Ariz., November 8, 2018 (Newswire.com) - enChoice Inc., an award-winning Enterprise Content Management and Digital Transformation solutions company, today announced an agreement with Welgevonden Game Reserve (WGR) to provide technical, administrative and software support for WGR's unique Rhino Protection Program.
According to statistics released earlier this year by the South African government, rhinoceros poaching remains at crisis levels, with around 1,028 rhinos having been illegally killed in 2017. Although there is much focus on rhino poaching, other animals are also poached for their body parts which, like the rhino horn, are used in traditional medicine in parts of Asia. Since poachers are usually heavily armed, response to poaching until now has been mainly reactive and primarily para-military.
WGR's Wildlife Protection Program is a pro-active system which utilizes a breakthrough technology to alert reserve security operations well before any at-risk animals are in danger. The system uses sentinel animals, who themselves are not poaching targets, fitted with sensors. The animals' movement patterns and other data are recorded and transmitted to a cognitive computing platform via a secure network. Predictive algorithms, developed by Wageningen University, analyze the sentinel-animal data and alert security operations of poacher threats. This system is based on an Internet of Things (IoT) design and was developed in partnership between WGR, the MTN Group (a multinational telecommunications group operating in 22 countries in Africa, Asia and the Middle East), IBM and Wageningen University in the Netherlands.
François Spruyt, chairman of Welgevonden Game Reserve, said, "We are delighted to welcome enChoice as a participant in our Wildlife Protection Program. Their IT capabilities will undoubtedly contribute to the success of the program, particularly in the planning of the next phase."
Tony White, CEO of enChoice, added, "We are honored to have been given the opportunity to participate in this meaningful project. We are looking forward to being able to channel our skills and solutions to benefit endangered species and a cause that is truly critical for the future of our planet."
enChoice's initial participation will include sending a senior IT professional, Jarrod Nash, to work on-site as project manager and take responsibility for planning and scoping the production rollout of the system with WGR, MTN, IBM and Wageningen University. Subsequent support from enChoice will consist of additional staffing, software and technology assistance.
About enChoice
Founded in 1993, enChoice Inc. is celebrating 25 years as an award-winning Enterprise Content Management (ECM) and Digital Transformation solutions company. enChoice software, services and support help customers accelerate their digital transformation by leveraging content and optimizing business processes. enChoice is an IBM Gold Business Partner, IBM 2015 Business Partner of the Year, OpenText Technology Partner and Microsoft Dynamics Partner. Discover why over 1,000 leading companies have chosen enChoice as their trusted digital transformation expert. Visit www.enchoice.com.
About Welgevonden
Welgevonden Game Reserve is located in the Limpopo province of South Africa. The reserve's 37,000 hectares of breathtaking mountain bushveld in the Waterberg plateau are home to a wide range of species, including the Big 5. The reserve has been proclaimed as a Protected Area and is known for excellence in wildlife management. It has become a living laboratory for developing advanced wildlife management techniques and using technology in conservation. For more information about Welgevonden visit www.welgevonden.org.
FOR MORE INFORMATION
Contact: Judy Roman
480-889-1028
jroman@enchoice.com
Source: enChoice Inc.
Share:
---
Categories: Enterprise Content Management (ECM), Wildlife
Tags: Digital Transformation, ECM, Endangered Species, Enterprise Content Management, Game reserve, IBM, IBM FileNet, IBM IoT, IBM Watson, MTN Group, Wildlife Reserve
---