Embrey Partners Receives the 2018 Fort Worth Beautiful Award
Press Release
-
updated: Dec 13, 2018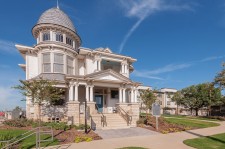 FORT WORTH, Texas, December 13, 2018 (Newswire.com) - The Fort Worth Garden Club announced that it will be presenting Embrey Partners with its 2018 Fort Worth Beautiful Award for the beautification of the grounds at Embrey's Kelley at Samuels Avenue development. Fort Worth Beautiful is an award that recognizes private sector companies for exceptional efforts in creating beauty in Fort Worth communities.
"It is always very satisfying to receive awards like this because we go into each project with the goal of creating a property that exceeds expectations," said Embrey Partners Executive Vice President - Development John S. Kirk. "The Kelley at Samuels was one of our most rewarding projects over the last couple of years because of the careful restoration and repurposing of the historic Garvey House, also known as the 'Queen of the Trinity,' which was located on the property when we acquired it. The landscaping design fit beautifully with what became a mix of historic restoration and modern property development."
In addition to the Fort Worth Beautiful Award, the Texas Historical Commission and Historic Fort Worth honored the San Antonio-based developer for its work in restoring the famous Garvey House. It had been vacant for more than 20 years and was in great disrepair when Embrey took ownership. But, it was once home to some of Fort Worth's earliest community leaders. Consequently, Embrey decided to make the Garvey House the focal point of its upscale, 353-unit apartment complex. Over about 18 months, craftsmen salvaged as much of the original materials as possible while adding modern building requirements to the 130-year old home. Embrey also constructed a 1,500-square-foot addition to increase office space and to add a guest suite on the second floor.
In a letter to Embrey Partners, Fort Worth Beautiful's Ginger Bason congratulated the company for its outstanding landscaping work and commitment to making Fort Worth a special place to live and work. They will present Embrey with the special award at the Fort Worth Garden Club's upcoming meeting on Jan. 18 at the Deborah Moncrief Garden Center.
According to Historic Fort Worth, Samuels Street was the location of the city's first high-style neighborhood. Over time, the location was forgotten and the old homes began to deteriorate. Today, Embrey's development is one of the first major redevelopments of the historic district and local leaders are touting the Kelley at Samuels as the perfect example of how preservation and new development can be mutually beneficial.
"When we started the Kelley at Samuels project in this historic location, we knew the challenge would be to create a modern residential community for prospective tenants while using the proper preservation principles that our neighbors would sincerely appreciate," Kirk noted. "The recognition from Historic Fort Worth, Texas Historical Commission and the Fort Worth Garden Club is very much appreciated and something we point to with pride as our company continues its work around the country."
About Embrey Partners
San Antonio-based Embrey Partners Ltd. is a real estate investment company that owns, develops, builds and manages market-rate multifamily and commercial assets in targeted markets across the United States. Since 1974, Embrey has developed more than 39,000 apartments and over six million square feet of commercial property. Embrey continues to be one of the leading developers in the multifamily sector, with approximately 6,000 units under construction or in development. For more information, go to www.embreydc.com.
Source: Embrey Partners
---
Categories: Housing and Community Planning and Development
Tags: development, fort worth, fort worth beautiful, fort worth garden club, historic preservation, multi-family development, real estate, real estate investments, redevelopment
---