Edward Kundahl, President of BusinessCreator and ForLawFirmsOnly, Announces the Launch of an Improved PPC Program
Press Release
-
updated: Dec 15, 2017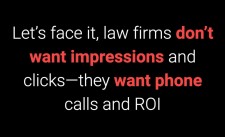 ALLENTOWN, Pa., December 15, 2017 (Newswire.com) - Edward Kundahl, president and owner of BusinessCreator Inc. and ForLawFirmsOnly, a lead generation and local search marketing agency, is pleased to announce the availability of a new pay-per-click service designed specifically for attorneys.
Edward Kundahl stated, "The program is designed to generate inbound calls. We have a very extensive and easy-to-read proof of performance, call tracking and advanced ROI reporting. It's more than just impressions and clicks — it's real clients. This is the only thing that matters to an attorney.
"It is well documented that the number one paid position on Google receives more clicks than anything else on the first page of results, including Google locals and the number one organic search result. If you've tried PPC in the past and it didn't work, that doesn't mean you should give up on paid search. In most cases, this was due to poor campaign management or poorly designed landing pages that did not convert well. Our team consists of Google AdWords experts. Our PPC campaign managers have passed Google's rigorous, industry-standard certification exams. You can rest assured that you're relying on experts who fully understand PPC and the needs of law firms. Our team is led by a former Google AdWords employee who spent over 12 years training the fundamental and advanced skills of AdWords to digital agencies nationwide. Our design and marketing teams develop high-quality score and converting display ads and landing pages.
"ForLawFirmsOnly uses the most advanced data-driven advertising technologies to promote your law firm to the right prospects at the right time, including competitors' customers, nearby consumers, recent website visitors, past customers and more. Our monthly reports don't just show that you've increased your impressions and clicks — these reports also show that we have generated more results that matter: phone calls. You will know that you have received a positive return on investment. The ForLawFirmsOnly experienced Digital Agency professionals will do all the heavy lifting for you - from setting up targeting and creating geo-fenced conversion zones to providing you with monthly proof-of-performance reports. With long-standing relationships with ad partners like Google and Facebook, ForLawFirmsOnly will always be on the cutting-edge of digital advertising technology."
Kundahl continued, "We take advantage of geo-fencing, geo-conversion zones, IDFA (unique device IDs), phone-call keyword monitoring, in-app display advertising networks, Facebook, Google AdWords, programmatic bidding, landing page analytics, conversion-optimized landing pages, tracking pixels and retargeting. Your ads will be displayed on search advertising via Google AdWords — the ads that appear at the very top of Google search results, social advertising via Facebook — the ads that appear in the Facebook News Feed — and display advertising — the banner ads on websites around the web and in mobile apps. We take advantage of retargeting to bring site visitors back for increased conversions and a higher ROI. This strategy has been shown to be highly effective."
If you'd like to discuss how you can benefit from people in your area searching for your specific service on the internet, then give us a call today so we can learn more about your business and exactly what type of potential clients you are most interested in.
More About BusinessCreator Inc.
Founded in 1994, BusinessCreator Inc. has helped many businesses with local search marketing, lead generation, mobile marketing, social marketing and video marketing. The company's mission statement is "We make local businesses grow. Ask us how."
To learn more about BusinessCreator Inc., you should call 610-437-8822 or visit them online at https://www.forlawfirmsonly.com.
CONTACT INFORMATION
BusinessCreator Inc.
Attention: Edward Kundahl
47 North Jefferson Street, Allentown, PA 18102
Phone: 610-437-8822
Fax: 484-709-1851
Website: https://www.forlawfirmsonly.com
Email: marketing@forlawfirmsonly.com
Source: BusinessCreator/ForLawFirmsOnly
---
Categories: Marketing, Law Firms, Lawyers
Tags: ad retargeting, digital advertising for attorneys, lead generation for law firms, ppc for lawyers
---