Edward Kundahl Announces the Availability of a New Free Ebook on LinkedIn Marketing
Press Release
-
updated: Dec 8, 2017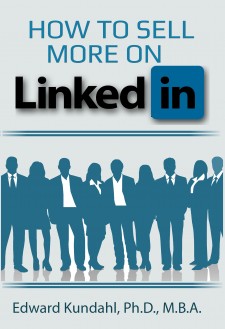 Allentown, PA, December 8, 2017 (Newswire.com) - Edward Kundahl, President and owner of BusinessCreator, Inc. and ForLawFirmsOnly, a lead generation and local search marketing agency, is pleased to announce the availability of a new free ebook on LinkedIn marketing.
Kundahl stated, "If you're not savvy about LinkedIn, you're really missing out. Not only is LinkedIn THE largest social media site for working professionals, it's one of the largest social media sites, period. In this book, I'm going to show you exactly how LinkedIn can work for you and your business. It doesn't matter what you sell.  It doesn't matter if you're running a freelance business, or you're a vice-president of a major corporation. LinkedIn means sales and sales means money for you and your business. Follow my advice in this book, and you'll get a lot more of each."
"Also, I help business owners, managers, and professionals just like you use LinkedIn for business. If you would like more information about the services I can offer you, please take a look at my contact information below. Feel free to reach out to me for a quick, exploratory phone call. "How to Sell More on LinkedIn" teaches you how to do exactly that, how to turn LinkedIn into a prospecting, branding, and sales machine for you and your business.  "In How to Sell More on LinkedIn", you learn, step-by-step exactly how to set up your profile for marketing, sales and branding purposes. From there, I walk you through how to connect with the right audience (your target market). Next, we talk about the right (and also the wrong) ways to message people."
"Finally, I show you how to use the right content in an automated way to brand and sell yourself and your business. Follow my simple to implement instructions and your LinkedIn account will become one of the main, if not THE main, source of leads and sales for your business. Does not matter what business you are in, either! You can sell anything from t-shirts to gold on LinkedIn. Anyone can benefit from reading this book! Get How to Sell More on LinkedIn today, read it, and start benefiting from more money, more recognition, more profit," concluded Kundahl.
More About BusinessCreator, Inc.
Founded in 1994, BusinessCreator, Inc. has helped many businesses with local search marketing, lead generation, mobile marketing, social marketing and video marketing. The company's mission statement is "We make local businesses grow. Ask us how.".
To learn more about BusinessCreator, Inc., you should call 610-437-8822 or visit them online at https://www.forlawfirmsonly.com.
CONTACT INFORMATION
BusinessCreator, Inc.
Attention: Edward Kundahl
47 North Jefferson Street
Allentown, PA 18102
Phone: 610-437-8822
Fax: 484-709-1851
Website: https://www.forlawfirmsonly.com
Email: marketing@forlawfirmsonly.com
Source: ForLawFirmsOnly/BusinessCreator, Inc.
Share:
---
Categories: Advertising, Marketing, Social Media
Tags: ebook on linkedin marketing, lead generation, linkedin marketing, social marketing
---