Easy Meal Solutions With Lifestyle Expert Mandy Landefeld
Press Release
•
updated: Aug 27, 2018
The Founder of Sumptuous Living Mandy Landefeld Provides TipsOnTV with Tips and Recipes to Feed the Family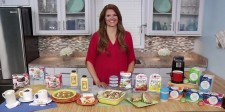 ATLANTA, August 27, 2018 (Newswire.com) - It is time to get ready with some easy meal solutions from Lifestyle Expert Mandy Landefeld. Mandy is the founder of the popular Sumptuous Living blog. Mandy has a recipe index for insanely flavorful but simple dishes to serve at any time of day that are perfect for busy families. This mother-of-three shares breakfast tips and quick dinner meals every mom and dad will appreciate. Discover why Mandy is passionate about making the everyday easier. Her motto is, "You can have it all and not lose your mind in the process!"
SOME EASY MEAL SOLUTIONS FOR THE MOST IMPORTANT MEAL OF THE DAY
JUST Egg is a sustainable, nutritious, protein-packed product made from mung beans that tastes and cooks like an egg! JUST Egg is also free of antibiotics, cholesterol, dairy and gluten. JUST Egg can be used to make a healthy breakfast wrap, but it is also a versatile, easy dinner option, in fried rice. JUST Egg will be available at select grocery retailers nationwide, including Fresh Thyme, Sprouts, and coming soon to Jet.com. To bring JUST Egg to a favorite local grocery store or restaurant, visit www.justforall.com.
ONE OF THE TOP SUGGESTIONS FOR AN EASY MEAL SOLUTION
Start with seafood, because Americans are not eating enough of it, even though the Dietary Guidelines for Americans recommend eating 2 to 3 servings of seafood each week! One tip is to make seafood part of the back-to-school routine with Bumble Bee's canned and pouched seafood for at home or on the go. Bumble Bee's Seasoned Tuna Pouches conveniently include a spoon for immediate, on-the-go snacking straight from the pouch. The Sun-Dried Tomato and Basil flavor is perfect for busy schedules or an easy on-the-go snack for school. Mandy also loves using Bumble Bee® Solid White Albacore to enhance any recipe, like a Tuna Zoodle Casserole for a quick weeknight dinner or a No-mayo Tuna Avocado Salad Sandwich for a school lunch. Seafood offers a wealth of nutritional benefits for the whole family, including protein and important vitamins and minerals like Vitamin D, iron and selenium. While fish can sometimes be intimidating to prepare, canned and pouched seafood from Bumble Bee® is immediately ready to be enjoyed or added to any meal. For more information and recipes, visit www.bumblebee.com
GREAT SUGGESTIONS FOR AN EASY SWEET TREAT
Perfectly portioned Betty Crocker Mug Treats! They come in eight flavors with toppings included and are the perfect indulgence for busy moms. A box of four mixes with toppings is just under $3. All it takes is one mug, a microwave and about a minute and mom can take her own timeout as she enjoys flavors such as Triple Chocolate Cake with Fudge Frosting, Cinnamon Roll Cake with Cream Cheese Icing and more. For more information, visit www.bettycrocker.com/products/betty-crocker-mug-treats
HOT NEW BEVERAGE TRENDS
A new beverage option, VitaCup vitamin infused coffee and tea pods. They provide a delicious and convenient way to get more essential vitamins to support energy, mood, metabolism, immunity, and more! There are so many flavors to choose from, including their most popular, the Genius Blend, which is an antioxidant-rich medium roast infused with MCT, Turmeric, and Cinnamon. The VitaCup pods are Keurig-compatible and are made with high-quality ingredients, 100% Arabica coffee beans and premium tea including Matcha and Moringa. Get free shipping at VitaCup.com or with an Amazon Prime account.
www.tipsontv.com
contact: tipsontv@gmail.com
Source: Tips on TV
Related Media