E-Pad - the World's First E-Ink Android Tablet With 4G Connectivity Launches on Kickstarter
Press Release
-
updated: Mar 26, 2019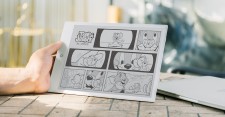 HONG KONG, March 26, 2019 (Newswire.com) - Today, Eewrite announced the Kickstarter launch of E-Pad, a lightweight, portable, e-ink Android tablet with 10-core processor and 4G connectivity. It sets a new standard for reading, writing, sketching, and note taking. The product is now available on Kickstarter.
Although the e-ink concept is not new, recent advances in e-ink technology are adding performance and convenience that make E-Ink tablets perfect for today's busy digital lifestyles. Smartphones are incredibly useful but they lack the ability to efficiently handle note taking, document annotation and comfortable reading and writing. E-Ink tablets that mimic the look and feel of paper bridge the gap between tradition and technology and provide the perfect platform for an enjoyable reading, drawing and writing experience.
"When we took on the task to design the best e-ink tablet, we knew that it had to look, feel and perform as well as paper, yet combine the convenience of digital features. To achieve this, we used the latest in TFT display technology then added 4G connectivity to create a truly mobile platform that is perfect for anyone who reads, writes, and handles documents." - Paul Qiu, Founder of E-Pad
E-Pad makes note taking and reading effortless. It mimics the experience of reading and writing on paper. Jotting down notes, signing papers or making notations on documents is smooth and natural using the included stylus or simply a finger. It supports all common file formats for documents, images, videos and sounds.
The 10.3" glare-free E-Pad display uses the new Mobius Carta screen designed to closely mimic the appearance of real paper, including surface friction when writing. The screen uses the latest in E-Ink technology – a plastic based TFT that is flexible, lightweight and durable. This new E-Ink display has incredible definition and optimum contrast that reflects light like real paper, for hours of comfortable reading without eye strain.
But E-Pad is more than just a powerful note-taking tool and digital reader. It supports Wi-Fi and is also 4G compatible, which lets users stay connected virtually anywhere. It is equipped with the advanced Android system, compatibility with the Google Play store and with a 10 core processor, with low latency and the power to run the latest apps and quickly browse image-heavy news and blog websites.
E-Pad is truly a next generation e-ink mobile device that delivers an authentic pen-to-paper note-taking experience, along with 4G connectivity, a full suite of convenient digital features, portability, and long battery life, that will totally replace notebooks, bulky printouts, and the need to work with physical documents. It's a unique and useful device that changes the way people work and makes the perfect mobile digital accessory.
E-Pad is available now on Kickstarter with deals and special offers for early adopters. For more information visit the campaign page: https://www.kickstarter.com/projects/479880611/1472392576?ref=cjk01m&token=ad7fb39d
Media Contact: hello@eewrite.com
Source: Eewrite
Share:
---
Categories: Consumer Electronics
Tags: android, e-ink, kindle, tablet
---