E.I. Medical Imaging Introduces New (i3) Video Headset for Use With Portable Ultrasound
Press Release
•
updated: Dec 12, 2017
E.I. Medical Imaging, a leading company manufacturing portable ultrasound systems for veterinary use, announced today the release of the i3 video headset for use with portable ultrasound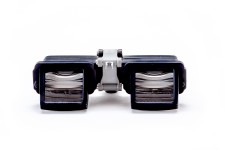 LOVELAND, Colo., December 12, 2017 (Newswire.com) - E.I. Medical Imaging® (EIMI), a worldwide leader in portable ultrasound systems for veterinary use, today announced the release of the all-new i3 video headset. The i3 headset is the latest generation of video headsets from EIMI and the first to incorporate the patent-pending custom prismatic optic developed by EIMI. This custom-designed optic, coupled with OLED displays, provides the highest-resolution headset ever produced by EIMI. "We spent three years of R&D on this optical design," President Charles Maloy states. "Of all the complex products that EIMI engineers, this optical design was certainly one of the most challenging."
EIMI pioneered the use of video headsets in conjunction with portable ultrasound systems and has been utilizing the technology for two decades. However, in order to achieve the highest-resolution image possible, it was necessary for EIMI to design a custom prismatic optic*. In addition to the optical and resolution features of the i3 headset, numerous mounting options are available to provide flexibility to the user for multiple mounting scenarios. The i3 headset is available in both a binocular and monocular configuration.
Of all the complex products that EIMI engineers, this optical design was certainly one of the most challenging.

Charles Maloy, President, E.I. Medical Imaging
About E.I. Medical Imaging
E.I. Medical Imaging was founded in 1984 based on the singular vision of developing state-of-the-art, portable, durable ultrasound systems to serve veterinarians and livestock producers worldwide. Over the company's 30-plus-year history, E.I. Medical Imaging products have evolved with the needs of the market. We are proud to be the only manufacturer of portable ultrasound systems engineered and developed in the United States specifically for the animal industry. If you have questions, feel free to contact E.I. Medical Imaging at info@eimedical.com.
*patent pending
Source: E.I. Medical Imaging
Related Media
Additional Links