Dunky Cup - Dunk Like a Boss
Press Release
•
updated: Feb 4, 2017
Dunky Cup is a fun new way to enjoy one of America's favorite pastimes - Milk and Cookies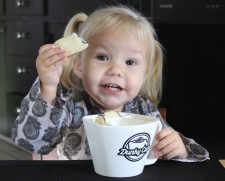 Phoenix, AZ, February 4, 2017 (Newswire.com) - ​​​​​​​​​​​​Phoenix-based startup, Sprybird LLC, just released a fun new product that is a must-have for cookie dunkers.
Named Dunky Cup, it is redefining the milk and cookie experience. Heavy-duty, yet sleek and comfortable to hold, the dunking cup was meticulously crafted for various-shaped cookies and milk. Inspired by the creator's love for Oreo Cookies (TM), the three pockets also nestle a variety of morsels such as Milano's (TM), graham crackers, vanilla wafers, and even your own freshly baked cookies. At center stage, ice cold milk, tea, or coffee is stored and is where the dunking fun and mystique takes place. As an added bonus, Dunky Cup allows you to ditch the plate, elevating you to cookie dunking bliss with a simple, yet innovative approach to cookie dunking.
My kiddos are gonna go nuts over this!

Anonymous Blogger
"I've always had a sweet tooth and a passion for inventing," says the cup's inventor Jim Smith. "These attributes crossed paths one night as I was sitting on the couch with my milk and cookies. As I stared at the cookie crumbs on my plate and then over at the small pile of dishes from cookies past on the adjacent table, the idea to integrate plate and cup came to me. I tried not to get too excited because I assumed that something this extraordinary probably had already been imagined. After hours of searching, a few other ideas that solved the cookie conundrum appeared, but I was unable to find any similar to Dunky Cup. From this point forward, I began my quest to solve this first world problem. With a background in engineering design, I initially modeled the cup for 4 cookies, but later decided that 3 cookies packaged much better and allowed for 8 ounces of milk in the center, plus it's great portion control! The overall shape and feel of the cup evolved slightly over the course of its development as I created multiple 3D printed plastic and porcelain prototypes and got feedback from friends, industrial designers, and manufacturers. Eventually I decided on a very durable food-safe plastic. I now look forward to a successful Kickstarter campaign which is live as of 2/3/17."
Product Features
3 cookie pocket design
Interior vessel for milk, coffee, or tea
Extra heavy-duty and strong
Food, microwave, and dishwasher safe
Large, ergonomic handle for comfortable, easy gripping
Reusable unlike paper/foam cups + recyclable = better for planet
Manufactured to high quality specifications
Made for a lifetime of dunking
Source: Sprybird LLC
Related Media