Drummer Francisco Mela Leads the Crash Trio for Release of New Album "FE" Featuring Guitarist John Scofield
Press Release
•
updated: May 24, 2016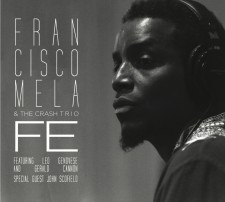 New York, April 29, 2016 (Newswire.com) - Cuban drummer, percussionist, and band leader, Francisco Mela (Joe Lovano, McCoy Tyner), is releasing his upcoming album entitled, FE, on May 1, 2016.
The album is the fourth release for Francisco Mela, and features The Crash Trio, comprising Mela (drums), Gerald Cannon (bass) and Leo Genovese (piano) with special guest, renowned guitarist John Scofield. Mela assembled the trio to celebrate the life's work of one of his mentors, legendary pianist, and composer, McCoy Tyner. The members of the group share an enduring friendship and have frequently collaborated over the years through a variety of different creative endeavors. The group has a signature sound, and international influences can be heard throughout their playing as the musicians' nationalities include the United States, Argentina, and Cuba.
Mela states: "While recording this project, I was able to express some of my emotions with very special musicians who have played a major part in my development and musical growth. With them, I share a musical and spiritual friendship. We have a commitment based on trust and good faith; we simply want the best for one another. For this I am thankful." This album is of particular significance to Mela, as he is releasing it shortly after the passing of his mother last year. He writes: "This album is dedicated to the memory of my parents, and I have faith that someday I will see them again."
FE is being released independently and will be available via iTunes and Amazon Music on May 1, 2016; The Crash Trio will be planning performances surrounding the album in the coming months, and new dates will be listed on Francisco Mela's website.
For more information visit: http://www.FranciscoMela.com
About Francisco Mela
Born in Bayamo, Cuba, Francisco Mela first came to the United States in early 2000 to study at Berklee College of Music (Boston, MA). He quickly made a name for himself by playing at various venues in and around the city and, before long, became a member of the Berklee faculty. Several years later in 2005, he joined Joe Lovano's quartet and has been an integral member of the group for over a decade, including Lovano's newest ensemble, a two-drummer quintet called "Us Five." In 2009, Mela was tapped by legendary jazz pianist, McCoy Tyner, to join his trio. Tyner, like many, has cited Mela's charisma, sophistication and life-affirming spirit as some of the drummer's many favorable attributes.
Mela has released four albums as a leader, all of which have received critical acclaim from numerous critics and publications. His recordings include Melao (2006), Cirio (Half Note Records 2008) which was recorded from a week-long residency at New York's Blue Note, Tree of Life (Half Note 2011) and his forthcoming release, FE (2016); he is endorsed by Zildjian Cymbals, Vic Firth Sticks, and Canopus Drums.
About The Crash Trio
The Crash Trio comprises three accomplished jazz artists in their own right, all of whom contribute distinguishing and complimentary musical offerings from different parts of the world. American bassist Gerald Cannon (African American Blues & Jazz) Art Blakey, Elvin Jones and McCoy Tyner; Argentinian piano player Leo Genovese (Tango, Chacarera and Candombe rhythms) Wayne Shorter, Joe Lovano and Esperanza Spalding; and Cuban-born drummer/percussionist Francisco Mela (Latin rhythms fused with Jazz) Esperanza Spalding, Kenny Barron, Joe Lovano, The Quincy Jones Gumbo All Stars and McCoy Tyner. Performing together since 2010, the musicians form a contemporary, jazz-based trio that focuses on both original compositions and classic standards. The group was conceived as a result of Mela's admiration for the great pianist, McCoy Tyner.
Source: ARE GROUP
Related Media
Tags
Additional Links