Dr. Varnado-Rhodes Gives Expert Advice on How to Avoid Getting Sick This Winter on Tips on TV Blog
Press Release
•
updated: Jan 15, 2018
TV Host Dr. Yael Varnado-Rhodes, MD, Shares Her Top Suggestions for Staying Healthy During Cold and Flu Season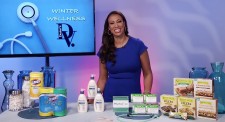 ATLANTA, January 15, 2018 (Newswire.com) - As a trusted health and lifestyle expert, Dr. Yael Varnado, affectionately called "Dr. V," has garnered the respect of her peers, patients and the public with her blend of passion-driven clinical knowledge and compassion. She has a passion for prevention and is known for her ability to deliver relatable and relevant information. She is committed to educating the masses about how important it is to live healthy lifestyles early on in life, in order to enjoy great health in the golden years. "Dr. V" explains why it is important to make lifestyle changes to avoid getting sick during the winter as she shares her top tips for winter wellness.
A GOOD WAY TO AVOID GETTING SICK THIS TIME OF YEAR
A good way to avoid getting sick is all about preventing the spread of germs. With children heading back to school from a long winter break during the height of cold and flu season, it is important to take steps to prevent the spread of cold and flu viruses. Unfortunately, many teachers have already depleted their supplies of the cleaning and disinfecting products that were purchased at the beginning of the school year, which is why the Clorox Company has partnered with DonorsChoose.org, a website that helps public school teachers get funding for classroom projects. Now people can help make it possible for every student and teacher in need to have a clean, healthy classroom. When donating to a project with the Clorox Company match offer, the donation is matched dollar-for-dollar by Clorox. The hope is for public school teachers from every corner of America to be able to get the cleaning and disinfecting supplies they need to keep their classrooms healthy and students learning. Visit DonorsChoose.org to help.
A PROBLEM PEOPLE COMPLAIN ABOUT DURING THE WINTER
The indoor heat causes many people to have dry skin during the winter months. One way to prevent this is Aveeno Skin Relief 24-Hour Moisturizing Lotion that helps restore essential moisture to itchy, extra dry skin. This fast-absorbing, fragrance-free lotion works immediately to nourish and restore essential moisture with soothing oat oil, natural shea butter and emollients. It is formulated with Active Naturals Triple Oat Complex, which is clinically shown to help relieve itchy, irritated, extra dry skin and moisturize for 24 hours. The Skin Relief Lotion is available for under $10 at food, drug and mass merchandisers nationwide or check out Aveeno.com.
WHAT TO DO FOR A CHEST COLD OR SNIFFLES
People must be very careful once they get a chest cold or cough. If the cough persists, they should see a doctor, but for some quick relief, an option is Myrtol 300, a supplement derived from essential oils to help support a healthy respiratory system. Myrtol 300 provides lung and sinus support while helping to clear and maintain a healthy respiratory tract. It is made up of a proprietary blend of distilled essential oils, eucalyptus, sweet orange, lemon and myrtle which together support healthy mucus production and relief. Available in the U.S. since October 2016, Myrtol 300 can be purchased without a prescription. For more information, visit www.trymyrtol300.com.
OTHER SUGGESTIONS FOR STAYING HEALTHY THIS NEW YEAR
Dr. V likes to choose foods with no artificial colors, flavors or sweeteners, and doing that is easier than ever. For example, Nature Valley bars. From the Almond Butter Layered Bar to the Honey Peanut Butter Soft-Baked Squares and even the Crunchy Almond Butter Bars (a spin on the Nature Valley classic!), these snacks pack a whole lot of delicious flavor with no artificial colors, flavors or sweeteners. Making choices like these keeps people feeling good all year. For more information, visit www.naturevalley.com.
Contact: tipsontv@gmail.com
https://www.youtube.com/watch?v=nGV-ouYjCVw
Source: Tips on TV
Related Media
Additional Links