Dr. Sanjoy Banerjee, Pain Management Specialist in Corona/Temecula Talks About Interventional Pain Management Techniques and Functional Restoration.
Living with chronic pain can be a nightmare for most people as they find even doing the daily chores like cooking, cleaning, driving or gardening as terrifying. Thankfully, new and innovative techniques of pain management are developing steadily, and they might help a person to feel better.
Press Release
-
updated: Oct 4, 2018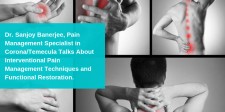 CORONA, Calif., October 4, 2018 (Newswire.com) - A prime example of such techniques are the interventional pain management techniques that were recently explained by Dr. Sanjoy Banerjee, a pain management specialist in Corona/Temecula.
Dr. Banerjee was quoted as saying "Interventional pain management is different from other pain management methods because it uses techniques like injections, radiofrequency rhizotomy and Spinal cord stimulation to ensure that the source of the pain is targeted."
Talking about the conditions in which a sufferer can get some relief from the pain Dr. Sanjoy Banerjee said: "People who suffer from chronic low back pain, neck pain, muscle/bone pain, joint pain and chronic headaches usually benefit from the interventional pain management techniques."
Highlighting the importance of merging interventional pain management techniques with other traditional methods, Dr. Sanjoy Banerjee said "Often times we use the interventional pain management techniques in conjunction with other methods like lifestyle and behavior modification, psychological coping mechanisms, motivational interviewing techniques as well as traditional pain medications. It ensures that a patient's pain is targeted anatomically, physiologically, pharmacologically as well as psychologically. The outcomes are better when using a multimodal approach. One size does not fit all. Chronic pain is not just limited to physical distress, it also has emotional consequences for the patient and their family."
Speaking about commonly used and usually effective interventional pain management techniques, Dr. Sanjoy Banerjee said: "Image-guided Injections are the most common method for pain relief as they help target medications to the anatomical sites of the pain". This reduces the pain and inflammation at the site allowing the patient to participate in Physical therapy, home exercise program and lifestyle modifications resulting in them able to manage their chronic pain better. The goal is to try and increase the patient's Activities of Daily living- i.e., what can they do or not do, and what would they like to be able to do.
Shedding light on some other methods, Dr. Sanjoy Banerjee continued "Functional Restoration programs like the one we have here at Pacific Pain Care is an intense Five days/week over six weeks program that consists of strength training, flexibility, traditional PT, nutritional counselling, yoga, mindfulness meditation, educational lectures from guest speakers as well as professional Psychological counselling both group and individual sessions to help patients regain function, be able to do more activities of daily living and reduce/eliminate their reliance on medications. At present this is available for Workers Compensation patients only and case by case multidisciplinary evaluations on an injured workers suitability for the program can be done by us with a referral from the adjuster and the Insurance company."
Explaining how to go about trying these options, Dr. Sanjoy Banerjee said "If you want to try interventional pain management techniques, you should talk to your doctor about it and ask for the right Pain Management Specialist's referral. Once you have established care and developed a Doctor/Patient trusting relationship you need to have patience as a Pain Management Specialist would try some of the methods mentioned above or even a combination of two or more methods to find the perfect solution for you. The kind of techniques to be used on you are custom tailored and determined by your medical conditions, past treatments and experiences as well as future goals. Have patience, bear with the program and there will be light at the end of the tunnel."
Source: Pacific Pain Care
---
Categories: Healthcare and Medical Informatics
Tags: Corona Doctor, Dr. Sanjoy Banerjee, Pain Management, Treatment in Corona
---