Dr.Fone 5-Year Anniversary Giveaway: Guess iPhone 8 Pricing to Win One for Free
iPhone 8 Worldwide Giveaway
Press Release
-
updated: Aug 10, 2017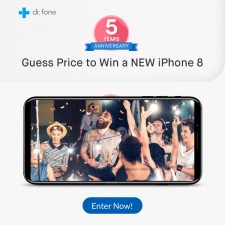 LOS ANGELES, August 10, 2017 (Newswire.com) - Dr.Fone is currently hosting an exciting giveaway for iPhone 8 to celebrate the release of the Apple's flagship smartphone. The brand is also embarking on the 5-year anniversary of their groundbreaking product Dr.Fone Data Recovery software. Apple's latest device, iPhone 8 is all set for its highly anticipated release. With the brand new iPhone 8 up for grabs, the giveaway is already gaining lots of popularity.
Dr.Fone has come up with three popular giveaways. Each giveaway will let their audience win the latest iPhone for free. The first giveaway is about guessing the estimated iPhone 8 price. The second giveaway is regarding the sharing of iOS 11 updates while the third giveaway would be an exciting quiz for Apple fans. Since the giveaway is applicable worldwide, it accepts global participation without any constraint.
Guess iPhone 8 Price Giveaway
The first giveaway which is currently being hosted right here simply let the participants guess the estimated price for iPhone 8. The event will run for a month, i.e. from Aug. 10, 2017, to Sept. 10, 2017. The subsequent contests are expected to run after the present giveaway would be concluded.
How to participate?
As stated, the giveaway asks the audience to guess the price for the brand new iPhone 8. All they need to do is submit their email ID and the estimated price to enter the giveaway. Additionally, they need to share the update on Facebook and must "like" the official Dr.Fone Facebook page.
Prize
The giveaway hosts a brand new iPhone as a prize that would be released later this year. It is expected to follow the subsequent name of the series - iPhone 8.
Rules
The rules for participating in the giveaway are pretty simple and straightforward. To be eligible for the contest, be familiar with the following regulations:
1. Participants need to provide a valid email ID.
2. For multiple entries with respect to the same email ID. the first entry would be considered.
3. Participants have to guess the price for the 128 GB version of iPhone 8 in USD.
4. To be considered as an eligible entry, participants need to "like" the Dr.Fone toolkit Facebook Page and share the update for the giveaway on their Facebook profile.
The contest winner would be announced on Sept. 15, 2017. Additionally, the more likes the shared update will get, the more likely a participant is expected to win. Since the giveaway will be active only until Sept. 10, readers are encouraged to do their bit of research and guess the precise price for iPhone 8. Furthermore, they should try to get more likes on the shared update to win the contest.
Source: Dr.Fone
Share:
---
Categories: Computers and Software, Computer Software, Media and News
Tags: Computer, Giveaway, Media, News, Software, Tech
---