Don't get left in the dark when going solar
SDG&E's new rules drastically change the economics of going solar
Press Release
-
updated: Dec 6, 2017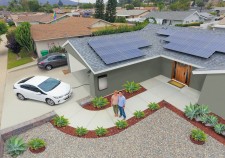 SAN DIEGO, December 6, 2017 (Newswire.com) - Over 15,000 San Diegans have gone solar this year, and the vast majority are likely unaware of the financial impact they will experience when San Diego Gas & Electric moves them on to the new solar rates. A typical homeowner may lose tens of thousands of dollars in savings over the lifetime of their solar power system if it is not designed to take into account the new solar rates, according to industry leader Sullivan Solar Power.
Under former solar rules, it was simple for solar companies to design a solar power system that resulted in a $0 bill for electric energy. A solar company looked at how much energy a household used on an annual basis and designed a solar power system to produce that same amount of energy per year, regardless of when the system produced energy or when the home consumed energy.
Since June 2016, solar customers in the San Diego Gas & Electric (SDG&E) territory have been on new solar rules, which will eventually force all of these customers on to "time-of-use rates." An in-depth analysis is now needed to design a solar power system because with time-of-use rates, SDG&E charges more for the electricity depending on when a home uses energy in a day, not just how much the home uses in a given month.  
As of Dec. 1, SDG&E is charging solar homes $0.27 for electricity consumed during the day and $0.54 for energy consumed in the evening. Solar doesn't work at night when the utilities are now charging more, so a battery allows homeowners to store their solar power and use it when electricity is most expensive. Systems which are not equipped for a battery will not be able to mitigate these new charges as effectively as systems with batteries, according to San Diego-based Sullivan Solar Power.
This is why Sullivan Solar Power has been educating the community about the need to pair solar with a battery since late 2016. The company partnered with local nonprofits, Center for Sustainable Energy and Climate Action Campaign, putting on a series of educational solar experiences to teach the facts about solar and battery integration.
"With my battery, I'm able to draw off the energy I generate and store it whenever I want while no longer being on the hook for the utility charging me whenever they want," said Bob Keefe, a Carlsbad resident, who went solar this August and is set to receive the state rebate for his battery. "I spoke with several solar companies and Sullivan Solar Power was the only one educating me that I needed a battery, which I'm grateful for."
A typical family who goes solar with a battery saves about $80,000 over 20 years. If their next door neighbors go solar without a battery at the same time, the neighbors will pay an additional $550 per year in unavoidable costs. Over 20 years, using a six percent escalation, the family without a battery will have paid $20,000 in additional costs that they were not necessarily expecting.
"Many local solar companies are simply saying batteries are unnecessary or are only for back-up power, and that's patently false - batteries allow solar customers to maximize their return on investment," said Daniel Sullivan, founder and president of Sullivan Solar Power. "The majority of families going solar in San Diego County have no idea about the huge financial impact these new rates are going to have because their solar company doesn't fully comprehend it, therefore these companies do not teach people the importance of incorporating a battery."
For those who go solar now, they can apply for the state rebate, the Self-Generation Incentive Program, which can cover roughly half the cost of a battery. In addition, the remaining cost can be offset by a 30 percent federal tax credit. A typical battery costs $6,500, including installation. After the rebate and tax credit, the cost is as little as $2,000, and the battery will pay for itself through energy savings in four to six years.
"The future is here, today - San Diegans can be free from the utility with the power of the sun for less than their current electric bill," said Sullivan. "That's a beautiful thing."
For more information about solar paired with energy storage, visit www.sullivansolarpower.com/solar-battery. 
Source: Sullivan Solar Power
---
Categories: Economy, Energy, Environmental Protection, Home Improvement and Renovations, Alternative Energy, Environmentalism, Environmental, Garages and Car Ports, Home
Tags: batteries, California, clean energy, cleantech, energy storage, renewable energy, San Diego, SGIP, solar, solar panels, solar power, Southern California
---