Do You Want to Win the Lottery? - Denver Magician Scotty Wiese Can Help
Press Release
•
updated: Oct 30, 2019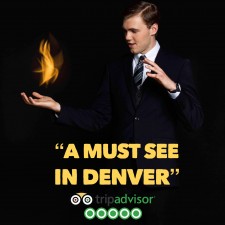 DENVER, October 30, 2019 (Newswire.com) - ​Every Sunday night in Downtown Denver, one of the country's hottest young talents, Scotty Wiese, amazes crowds at his weekly show "Mile High Magic." Performing at Bovine Metropolis Theater, Wiese involves ​every single audience member throughout the entire 75-minute, one-man show.
Guests participate from their seats, on stage, and even with their eyes closed while Scotty displays the power of the subconscious mind.
However, nothing can prepare an audience for the finale of this show. Standing in the middle of an empty stage, Scotty brings out a lottery ticket he purchased about six hours before the show. He states that the lottery is impossible to predict. However, Wiese very clearly argues that "It is extremely easy to predict humans."
Without spoiling the magic, Scotty miraculously transforms every audience member into a lottery winner. "Mile High Magic" is not a typical rabbit out of a hat show. Wiese beautifully weaves stories about his life and other current topics, like the lottery, to create a new brand of magic. It is like the trending page on Twitter had a baby with David Copperfield: unforgettable magic mixed with relevant and captivating stories.
Picasso once said, "Art is the lie that reveals the truth." Magicians are known for lying and using tricks to achieve their "magic." However, Wiese understands that magic can be a platform to communicate a larger idea, rather than simply fooling someone.
Compared to most magic shows that focus on the tricks and gimmicks, Scotty brings the audience into his dream world. Using stories, music and imagination, Wiese leaves every person in the theater with a true feeling of wonder, awe and joy.
​Get tickets for "Denver's Best Magic Show" here - Tickets
Scotty Wiese presents "Mile High Magic"
Sunday Nights at 7 p.m.
Bovine Metropolis Theater
Source: Scotty Wiese Magic