DiversyFund Takes Crowdfunding Real Estate Investment Giants Head On
By being among one of the only platforms to be full-service, DiversyFund looks to change the game within the crowdfunding real estate community.
Press Release
-
updated: Jan 30, 2017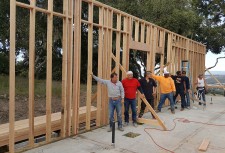 San Diego, CA, January 30, 2017 (Newswire.com) - DiversyFund, Inc., announces the launching of its new full-service online crowdfunding real estate investment platform. DiversyFund principals, Craig Cecilio and Alan Lewis, have been delivering exclusive investment opportunities that generate high returns for their investors for over a decade. The company has planned to offer some unique features to its investors in the upcoming months. These are aimed to disrupt the current status quo of the industry.
With their new online crowdsourcing platform, DiversyFund is planning to become the key sponsor and lead developer to the majority of their projects, if not all of them. This is a key difference in their crowdfunding real estate investment platform. It makes them stand out since many of their competitors work with third-party sponsored projects and act only as mediators by providing technology to implement funding for outsourced deals. "By putting skin in the game and leading our project development with an in-house construction director, we reduce risk and increase returns for our investors," says Alan Lewis, Chief Investment Officer, at DiversyFund.
Unlike similar platforms that outsource the majority of their contracting, DiversyFund wants investors to understand that their investment and development team is involved in every project until its completion. "We provide our investors complete transparency and visibility, so they feel comfortable with their investments," says Lewis.
Through a personalized investor portal and real-time updates regarding investments, DiversyFund is easily able to deliver transparency to their investors. Furthermore, by keeping each of their investors "in-the-know" throughout the entire investment process, DiversyFund feels they are able to deliver an immeasurable product to investors: confidence.
With over two decades of experience, their team is able to handle every aspect of the real estate investment and development process to ensure a successful completion. The company is committed to changing the face of crowdfunding real estate investing. By being among the leading crowdfunding real estate investment platforms, they are doing just that.
DiversyFund currently has a unique take on what crowdfunding real estate investing should be, and it's working! By being able to personalize each investor's experience and updating each of them regularly by providing project update reports, pictures and videos, the company continues to show how they intend to revolutionize the real estate investment community. Ultimately, helping investors diversify their portfolios.
For media inquiries:
Affif Siddique
510-432-0030
saffif@diversyfund.com
Source: DiversyFund, Inc.
Share:
---
Categories: Business Development, Emerging Businesses, Real Estate Investments
Tags: crowdfunding, crowdfunding investments, investments, real estate, startups, technology
---