Distance Teaching and Mobile Learning Expands Into Uganda and Ethiopia
Press Release
-
updated: Jul 18, 2017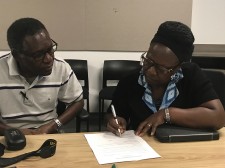 REDMOND, Wash., July 18, 2017 (Newswire.com) - Distance Teaching and Mobile Learning (DTML) is a nonprofit organization that leverages technology to provide access to free educational support through mentorship to kids all around the world. They are thrilled to announce that this week they have expanded their services and tech resources into both Uganda and Ethiopia. The new expanded support means that children in both countries can now access vetted volunteer mentors and professional tutors directly online.
Born from a passion for harnessing the invaluable communicative elements available to people through technological infrastructures, DTML has developed an online portal where verified and trustworthy volunteers can directly connect with, and mentor, students via online real-time media.
"Our goal here at DTML is to maximize the potential of technology to effectively and sustainably provide free educational support to children in every corner of the globe," said Dr. Aleksey Sinyagin, Founder and Director of DTML. "To make this possible, we have constructed an online portal that enables qualified individuals to connect with and work alongside students through various media channels. Engagement is key to effective educational practices, and our portal allows volunteers to share knowledge, teach skills, and encourage students to explore their imaginations."
Distance Teaching and Mobile Learning signed agreements with Hope for Children in Ethiopia and with Alpha and Omega Education, Ambassadors of Hope, Uganda to bring their free educational platform to these organizations.
Created with the intention of providing educational and community networks to children who would otherwise not have access to basic resources, DTML works to close the gap by partnering with underserved local schools and educational institutions in developing countries.
The platform works by pairing students with pre-vetted mentors for a long-term partnership and collaborative relationship that will oversee the students through adolescence into adulthood. Since research has proven that stability, consistency and reliability are key ingredients for educational confidence and success, the DTML program is constructed around longevity. All participating students will have a lifelong connection and access to their mentors during and following the program. The program is designed to deliver more than just an educational service — mentors and tutors are equipped to provide personal support when any student is in need. 
"Though the local educational facilities don't have the means to provide the kind of education we're passionate about, they do have a support system that enables us to measure results and accuracy moving forward," said Nestor Jerez, regional representative of Distance Teaching and Mobile Learning. "We always ensure that our efforts are increasingly beneficial for every student participating. However, we can't do it alone. To maintain and grow our team of qualified leaders and volunteer mentors and tutors, we need sponsorship support. Whether it's through a one-time donation, or reoccurring corporate sponsors, any type of help is greatly appreciated as it facilitates the growth of our technological infrastructure. We are asking our community to spread the word on DTML's commitment to the dissemination of quality education, and to please visit our website to learn more about our platform and services. And if you feel inspired to get involved in other ways, we would love to invite you to consider becoming a mentor volunteer."
DTML contains a student portal, mentor and tutoring portal, and donor portal for those wishing to register with the platform. It is completely free to register with the website and learn more about the volunteering opportunities available.
​Media Contact:
Email: media@dtml.org
Source: The Distance Teaching and Mobile Learning, Corp.
Share:
---
Categories: Non Profit, Educational News, Educational Technology
Tags: children, Distance Learning, distance portal, Distance Teaching and Mobile Learning, DTML.org, online volunteering, remote volunteering
---