Bellevue High Teens Partner With DTML to Create 'Computer Parts in Outer Space'
eLearning game supports literacy learning for non-English-speaking youth
Press Release
-
updated: Jun 24, 2018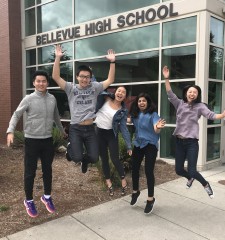 REDMOND, Wash., June 24, 2018 (Newswire.com) - Six teens from a Bellevue High School computer club have created a game to help young students in developing countries learn computer basics. Working in collaboration with DTML (Distance Teaching and Mobile Learning), the students have created Computer Parts in Outer Space.
The team of six students (Aisha Magsi, Julia Dai, Ein Chang, Emily Huang, Jack Zhang and Tyler Wang) worked together during the 2017-18 schoolyear to design and code the game through Bellevue's Computer Science for Social Change Club. The club was founded by Bellevue senior Aisha Magsi after completing an internship with Microsoft and participating in Microsoft's One Week Hack4Good Hackathon. For Magsi, the club brings together her dual interests in social justice and computer science. Magsi explains that she founded the club "with the goal to give high school students the power to have a positive social impact by using their coding and problem-solving skills."
Like all DTML games, Computer Parts in Outer Space is a literacy game. The game uses visuals, audio and keyboard commands to engage young non-native English speakers to learn the common parts of a computer. Using in-game robots, the students provide an engaging atmosphere for young students who are learning English.
The teens learned to use Construct 3, a 2D game engine, to create their game. Tyler Wang, a Bellevue junior, said his goal was to make sure the game was both educational and fun. "As we created the game, having small details like background music and a space theme helped shift the app into an entertaining game," Wang explained.
Throughout the process, team members strengthened their process thinking and ideation skills. Emily Huang, a senior, noted that the biggest challenge in creating the game was figuring out the various functionalities of Construct and "how they fit into our game plan."
Sophomore Jack Zhang was excited about designing the flow of the game: "We put ourselves in the shoes of the players and this type of experience was fantastic." 
Aside from acquiring new technical and thinking skills, creating the game also taught the six a solid lesson in teamwork. Ein Chang, also a senior, said, "My favorite part of the game was working on it together as a team! We had a lot of fun brainstorming themes, adding different sounds and combining our work to create a final product!"
Emily Huang echoed Chang's sentiments: "I particularly enjoyed brainstorming our game themes and objectives as a team! It was a lot of fun working together and building on each other's ideas, as well as making our final idea come to life through code." 
Creating the game has had an impact on the way the students are thinking about their future careers. Julia Dai, the fourth senior on the team, explained that working as part of a team made her think differently about what it would be like to work in the tech industry. "Usually when you imagine a software engineer, you think that they work alone all day, but working on this game proved that you need teamwork, especially in this industry." In fact, it has opened her to new possibilities: "I definitely started considering joining the tech industry as a career after working on this game," Dai said.
The lessons these six students learned from working on the game with DTML were just the beginning. DTML's entire focus is to leverage technology to provide access to free educational support to every child around the globe. Through DTML's online portal, students across the globe can access a variety of free eLearning materials.
The nonprofit organization was established to provide 24/7 self-learning. To do that, they partner with the leading eLearning content provider to "deliver rich, interactive educational content to the students." They depend on donations to support their operations, which includes providing their educational platform for free to schools. Because it is a children's learning website, DTML does not run ads on the site. To support DTML with donations of any amount, please visit dtml.org/Home/Donate. 
About DTML
Distance Teaching and Mobile learning (DTML) is a 501(c)(3) nonprofit organization that was founded in 2016 by Aleksey and Jane Sinyagin. DTML was founded to provide equal access to education for all children regardless of economic condition and availability of skilled teachers. The organization accomplishes their mission by providing free educational activities powered by state-of-the-art eLearning technologies. DTML's 175,000 users in 112 countries across the globe have completed 37,000 online lessons to date. 
Media Contact: 
Tatiana Bogacheva 
Email: admin@dtml.org
Source: DTML
---
Categories: Non Profit, English as a Second Language
Tags: Bellevue, children, Distance Learning, Distance Teaching, Distance Teaching and Mobile Learning
---