Discovery Point Announces 48th Location and First Bradenton, FL Site
Press Release
•
updated: Jun 8, 2020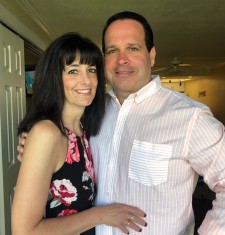 BRADENTON, Fla., June 8, 2020 (Newswire.com) - ​​​Discovery Point, a leading educational child care franchise, announces an agreement for a new center in Bradenton, Florida.
The Bradenton center will be owned and operated by Dr. Roger Clough and Mrs. Robin Clough and is scheduled to open in late 2020. Roger and Robin are originally from upstate New York. They have two teenage children, McKenzie and Owen. The Cloughs are excited about moving to Florida and to open a new Discovery Point.​
"We're delighted to welcome Roger and Robin into the Discovery Point family. We're pleased to be able to introduce our high-quality brand of child care to a new community," said Cliff Clark, Discovery Point Founder and CEO. "We are looking forward to seeing how the Cloughs implement their vision to meet the specific needs of Bradenton parents and their children."
Having been a Superintendent of Schools for 11 years in New York State, Dr. Clough brings educational experience and expertise to Discovery Point. During his tenure, he helped implement several successful new programs for younger-aged children. These include broadening Pre-Kindergarten, introducing Junior Kindergarten, and adding reading teachers in all elementary schools within his district. He also helped establish a STEM program in the elementary schools and helped create after-school and mentoring programs for young children.
Throughout his career, Dr. Clough's passion has been to engage and educate the next generation.
"I have always been inspired by the notion that the measure of a civilization is how it treats its youngest members," says Dr. Clough. "Children should experience a learning environment that will help them grow from an infant to an adult. I feel the curriculum programs created by Discovery Point will help nurture so many children at an early age and provide them with the tools they need to succeed in the future."
While her husband's background is in education, Robin Clough worked for the United States Customs Service and Homeland Security for 25 years. Her roles included a wide variety of administrative and management duties essential to the daily operation of Homeland Security Investigations.
"My wife and I are excited to become a part of the Discovery Point family and to help grow the franchise. Even more so, we're excited to help every child that we have in our center and to develop a strong connection with the families we serve."
The Bradenton location marks the 48th active Discovery Point center and its 13th in Florida. Discovery Point centers have a distinctive design that incorporates years of childcare experience into their construction and layout. Features include an open floor plan with clear sightlines, easy access between classrooms, and efficient use of multi-purpose spaces. The Bradenton center will be an updated version of Discovery Point's traditional center layout – the first location to retrofit an existing building into a child care center. Construction of the Bradenton center is set to begin in the summer of 2020.
Source: Discovery Point Franchising, Inc.
Additional Links