Disadvantaged Youth Find Career and Fulfillment in Carpentry Trade
Union Pre-Apprentice Program Provides Trade Skills for a New Career
Press Release
-
updated: Oct 25, 2017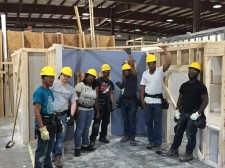 Rock Tavern, New York, October 25, 2017 (Newswire.com) - Seven economically disadvantaged students who entered a carpenter pre-apprenticeship program have graduated and enrolled into a full-time apprentice program with the Northeast Regional Council of Carpenters.
The Northeast Carpenters Apprenticeship Training Fund/Northeast Regional Council of Carpenters, partnered with the Orange County Employment and Training Administration to sponsor the pre-apprentice program. The idea was that it could serve as a steppingstone for economically disadvantaged youth, 18 to 24, who lived at the poverty level but want to work and find a career.
The pre-apprenticeship curriculum introduced the candidates to the skills and challenges of being union carpenters. During the six-week, 240-hour coursework, they received a sampling of subjects that a full-time apprentice carpenter faces, including construction math, concrete, framing and working with metal studs.
The program allows candidates to sample the carpentry profession. "The program was a great success because those who enrolled had a real-life glimpse of what it's like to learn and work as a union carpenter," said Dennis Yorke, coordinator for the Northeast Carpenters Training Fund Program. "What we do isn't easy, but it is also fulfilling," says Yorke. "The pre-apprenticeship program gives them an unvarnished view of a carpenter's work life." Graduates of the program can immediately enter a five-year apprenticeship program consisting of classroom and hands-on training earning journeyman status. "Union apprentices are paid during the apprenticeship program, and when they graduate, they have no debt and a job waiting," says Yorke.
All pre-apprentice candidates undergo a screening process that includes basic education requirements, having access to transportation and passing a drug test.
Yorke recalls the pre-apprentices returning to the classroom at 3 p.m. one day, covered in baby powder from head to toe. "It was a great sight because even though they labored all day, covered in baby powder to protect their skin as they learned how to install insulation, they seemed happy. I asked one of the apprentices what was it like, and he said, 'It's great. Now I know how to do this.'"
Melzina Canigan-Izzard, 24, a Newburgh native, joined the pre-apprenticeship program last spring. After graduating, she joined the apprenticeship program, committed to becoming a journeyman carpenter.
"It's exciting, and I love it," said the enthusiastic Canigan-Izzard. She admits having been "handy" and being self-taught, but the carpenter's program brought structure into her training. She said people are surprised when they ask her occupation. "Some people have a stereotype about women being dainty and it's nice to know that I can do whatever the male carpenters do," she said. "I like being a role model and I hope that more women join the carpenter's union. We can do anything."
###
The Northeast Regional Council of Carpenters (NRCC) represents nearly 40,000 hardworking men and women in Delaware and New Jersey and portions of Maryland, New York, and Pennsylvania. NRCC is one of the largest trade unions on the East Coast. The NRCC equips professional men and women carpenters with the skills, training and quality workmanship that today's construction industry demands. For more information on NRCC, please visit our website: www.northeastcarpenters.org; Facebook: https://www.facebook.com/NortheastRegionalCouncilofCarpenters; or Twitter: https://twitter.com/nrccarpenters.
Source: Galileo Communications Inc.
Share:
---
Categories: Business News, Construction, Education
Tags: Dennis Yorke, Melzina Canigan-Izzard, Northeast Regional Council of Carpenters, NRCC, The Northeast Carpenters Apprenticeship Training Fund
---