Director Jerry London Releases His Biography - From I Love Lucy to Shogun ... and Beyond: Tales From the Other Side of the Camera
Samera Entertainment Excited to Announce Director Jerry London Biography Available Now on Amazon
Press Release
-
updated: Feb 23, 2018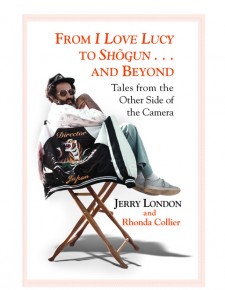 LOS ANGELES, February 23, 2018 (Newswire.com) - Iconic film and television director Jerry London released his biography From I Love Lucy to Shogun ... and Beyond: Tales From The Other Side Of The Camera, which is making a splash in Hollywood.
As one of the most prolific directors in Hollywood, London's career spanned over 40 years and saw him direct more than 350 episodic television shows including "Hogan's Heroes," "Partridge Family," "Brady Bunch," "Mary Tyler Moore Show," "Kojak," "Six Million Dollar Man," "Rockford Files" and "Happy Days," to name a few.
London was at the helm of over 40 Movies-of-the-Week and 11 blockbuster mini-series including Emmy Award-winning "Shogun" and "Ellis Island," directing some of the biggest stars in Hollywood such as Charlton Heston, Gregory Peck, Whoopi Goldberg and Annette Bening. He also directed over 25 Academy Award-winning actors and actresses. 
In the new book, From I Love Lucy to Shogun ... and Beyond: Tales From the Other Side of the Camera, London and his writing partner Rhonda Collier humorously detail the story of how a scrawny kid standing in the middle of the tennis courts at Alhambra High School went on to become one of the most sought-after directors in television history. With unflinching candor and wit, their book leads the reader through the closed-door deals, absurd antics of the famous and near disasters on exotic locations and film sets all over the world.
London said of the book, "I wanted to offer a director's view of what goes on behind the scenes in television production. I think people will find that what really happens can be quite an eye-popping adventure."
Sharry Flaherty, founder of Samera Entertainment, stated, "London is to film what Jordan is to basketball. As one of the most highly sought-after directors in television, this book takes the reader on an explosive 'what's going to happen next' ride that can only a director could tell. A funny, witty and totally captivating book. Exactly what you'd expect: great storytelling!"
"Brilliant! I couldn't put it down … This book is for anyone who has ever wondered what happens on a set when the cameras aren't rolling! A laugh-out-loud page turner." -- actress Jane Seymour
"Jerry London is a legend in our business. He writes the way he directs, with pace and energy, and tells a great story ... This is a glorious read!"  -- actor Liam Neeson
"I Love Lucy to Shogun ... and Beyond: Tales From The Other Side of The Camera" is available on Amazon.com.
Jerry will also be at the Los Angeles Times Festival of Books at the University of Southern California on April 21 and April 22, 2018, if you would like to meet him and get a signed copy of his book.
For more information or to interview Jerry, please email Sharry Flaherty, SameraEntertainment@Gmail.com.
Source: Samera Entertainment
Share:
---
Categories: Books, Movies, Arts and Entertainment
Tags: Biography, Books, Film Director, Hogans Heroes, Hollywood Director, Hollywood Films, Hollywood Legends, Hollywood Movies, I Love Lucy, Jerry London, Lisa London, Movies
---