Direct Federal Credit Union Hosts Financial Literacy Event at the Lilla G. Frederick Pilot Middle School
Press Release
•
Apr 24, 2023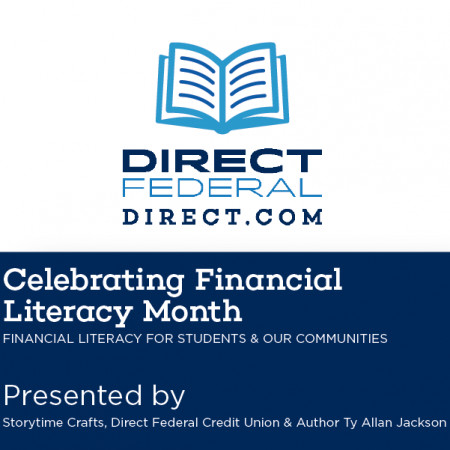 NEEDHAM, Mass., April 24, 2023 (Newswire.com) - Direct Federal Credit Union, a leading financial institution committed to promoting financial literacy and education, is proud to announce its upcoming event aimed at educating middle school students on the importance of financial planning and management. This event is part of Direct Federal's ongoing efforts to promote financial literacy among young people and help them develop the necessary skills to make sound financial decisions in the future.
The event, which will be held on Tuesday, April 25, 2023, at The Lilla G. Frederick Pilot Middle School, will feature members of the Leadership Team from Direct Federal, Youth Literacy Partner, Storytime Crafts, and Book Author Ty Allan Jackson who will engage with students through interactive sessions. He will read his book, Make Your Own Money, to the students and wrap up each session with a Q&A, where students can ask questions and seek advice from the financial experts. Attendees will also receive resource materials, including guides and worksheets, to help them continue their financial education beyond the event. They will also engage in various financial topics, including budgeting, saving, the importance of good financial health, and planning.
"We believe that financial literacy is an essential life skill, and we are committed to empowering young people with the knowledge and tools they need to manage their finances effectively," said Danya Raphael, Vice President of Marketing for Direct Federal. "We are delighted to partner with Storytime Crafts and Author Ty Allan Jackson to host this event for the students of The Lilla G. Frederick Pilot Middle School. We hope to inspire the students through this educational opportunity and contribute to the development of a financially literate community."
This event will feature Ty Allan Jackson, an award-winning children's book author, youth motivational speaker, and literacy advocate. A three-time TEDx presenter, he travels around the U.S. inspiring children to read and educating adults about the impacts of illiteracy. Jackson's self-published books have been featured on CNN, NBC Nightly News, The Steve Harvey Show, PBS, and the Hallmark Channel. In 2020, he appeared on Marvel's Hero Project on Disney+ and a Good Morning America segment. Jackson is the co-founder of the Read or Else movement and the financial literacy program Danny Dollar Academy.
To learn more about Direct Federal's financial literacy program, visit https://www.direct.com/DirectLIFE.
About Direct Federal Credit Union: Direct Federal is a federally insured credit union located in Needham, Massachusetts. Starting as a local lender in 1953, Direct Federal Credit Union is a leading financial institution committed to providing its members with a wide range of financial products and services. With a focus on community involvement and financial education, Direct Federal Credit Union has been serving Massachusetts residents from Middlesex and Norfolk County and surrounding areas for 70 years.
Source: Direct Federal Credit Union