Dictum Health's Telemedicine Platform Sees Expanded Use at Children's Hospital of Richmond at VCU for Post-Surgical Monitoring of Pediatric Patients
Follows a successful pilot study at Children's Hospital of Richmond at VCU for post-surgical monitoring of patients at home
Press Release
-
updated: Feb 11, 2020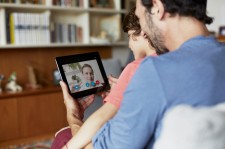 OAKLAND, Calif., February 11, 2020 (Newswire.com) - ​​​Dictum Health – innovators in telehealth's Virtual Exam Room (VER) technology that brings the medical team to the point of care – announced the expanded usage of Dictum Health's telemedicine platform by Children's Hospital of Richmond at Virginia Commonwealth University for post-surgical recovery monitoring of patients at their homes.
This expansion uses the new eVER-HOME remote patient monitoring (RPM) solution from Dictum Health and builds on the successful initial year-long clinical trial study conducted by CHoR. The outcomes from that study were documented in an article published in the Journal of Pediatric Surgery, January 2019. Among the outcomes cited were a 92% acceptance rate of telemedicine visits in place of in-person visits, zero return to hospital/ER events, earlier patient discharge post-surgery (12 to 24h), and avoidance of long-distance travel by patients for follow-up visits.
The initial study used Dictum Health's IDM100 Medical Tablet and integrated Care Central cloud-hosted telehealth platform to conduct post-surgical follow-up consults with patients at home, in place of in-person visits. The current expansion phase uses the new eVER-HOME tablet and device kit designed for individual patient consults and monitoring from the patient's home. The eVER-Home product provides an economical, yet a clinically advanced solution to conduct live video consults and remote physiological data collection and monitoring from patients at home.
"We've seen great success with the Dictum Health telemedicine solution among our bariatric surgery patients," said David Lanning, M.D., co-surgeon-in-chief at CHoR and interim chief medical officer of VCU Health System. "Compliance with follow-up care is critical for these patients, and many of them travel from as far as five hours away as CHoR is the only comprehensive ACS-verified program in Virginia. This telemedicine technology allows us to review their meds, discuss nutrition, view their incision site and discuss next steps – all while the patient is comfortable at home."
The new phase of the telemedicine program at CHoR will include advanced patient engagement and clinical assessment and monitoring tools via delivery of patient recovery education content, customized care plans, assessment questionnaires, and a scoring system. This scoring system will use the AI (Artificial Intelligence) capabilities in Care Central to calculate blended scores for incoming physiological data and questionnaire responses tied to the patient's age, and alert the care team of a condition that has exceeded a set threshold or of a rising risk situation.
"We are excited to partner with Children's Hospital of Richmond at VCU to bring new technology and clinical workflow solutions to help advance patient care for their pediatric patients," said Mory Ejabat, Founder and CEO of Dictum Health. "The new assessment and monitoring protocols we are co-developing under the expertise of the surgical team are exactly the types of solutions that will empower our provider users to achieve meaningful clinical care gains from our solutions."
About Dictum Health
Experts in mobile, cloud and clinical sciences, Dictum Health is transforming the way telehealth is delivered by leveraging innovation and quality to provide the Next Evolution in the Continuum of Care. Dictum Health's Virtual Exam Room (VER) telehealth technology provides immediate access to clinical care through a virtual exam, where clinicians remotely connect to patients using video conferencing and simultaneous viewing of vital signs, cardiopulmonary data, and medical images for immediate assessment and clinical decisions. Our solutions give physicians the means to treat, consult, monitor and manage even their most at-risk patients from virtually anytime, anywhere. For more information, visit www.dictumhealth.com.
About VCU and VCU Health
Virginia Commonwealth University is a major urban, public research university with national and international rankings in sponsored research. Located in downtown Richmond, VCU enrolls more than 31,000 students in 217 degree and certificate programs in the arts, sciences and humanities. Thirty-eight of the programs are unique in Virginia, many of them crossing the disciplines of VCU's 13 schools and one college. The VCU Health brand represents the health sciences schools of VCU, the VCU Massey Cancer Center and the VCU Health System, which comprises VCU Medical Center (the only academic medical center and Level I trauma center in the region), Community Memorial Hospital, Children's Hospital of Richmond at VCU, MCV Physicians and Virginia Premier Health Plan. For more, please visit vcu.edu and vcuhealth.org.
Source: Dictum Health
Share:
---
Categories: Healthcare and Medical News
Tags: Children's Hospital, Children's Hospital of Richmond, CHoR, Dictum Health, Expansion, Outcomes, post-surgery, remote health, surgical recovery, telehealth, telemedicine, Virtual Exam Room
---