VCU Health & Dictum Health Partner to Remotely Manage Patient Care During the COVID-19 Pandemic
Press Release
-
updated: Jul 21, 2020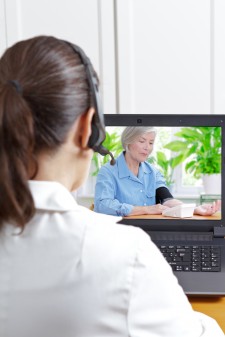 OAKLAND, Calif., July 21, 2020 (Newswire.com) - VCU Health has rolled out a new transitional care Remote Patient Monitoring (RPM) program using a telehealth solution from Dictum Health to extend care management services to patients at home, driven by the need to reduce exposure to the COVID-19 virus. This system enables a specialized VCU Health post-acute care coordination team to remotely monitor and manage the care of discharged COVID and other high-risk patients to address any care needs in a timely manner with the aim of avoiding unnecessary complications, emergency department visits, and rehospitalizations.
Under the transitional RPM program, VCU Health supplies select patients with a high risk of re-admission a Dictum Health eVER-Home interactive tablet and medical accessories, which are linked to Dictum Health's Care Central platform. Through this platform, the VCU Health care team sets automated, custom care plans per patient to guide them on which clinical tests to take and how often to take them.  
A 24/7 centralized nursing team located in the VCU Health Continuum Integration Center (CIC) monitors the recorded values, as well as the patient's compliance with a prescribed testing schedule. The care team also uses automated alert settings for instant notification of an undesirable change in a patient's condition or a lapse in the assigned test-taking schedule. The nurses escalate any noted concerns to a collaborating physician, who reviews the patient's condition and can make changes to the care plan based on new data. Patients are provided two scheduled transitional telehealth virtual encounters with an advanced practice provider – one at admission and one just prior to discharge from the program – and additional virtual visits can be conducted as necessary. 
"The Dictum Health solution gives us the tools we need to bring an advanced level of care management to our at-risk patients in their homes," said David Lanning, M.D., Ph.D., interim chief medical officer of VCU Health and co-surgeon-in-chief at Children's Hospital of Richmond at VCU. "This lowers the risk of exposure to the COVID-19 virus for those patients and reduces the demand on in-facility care resources, preserving the capacity for urgent care needs."
The eVER-HOME platform simplifies planning and deploying remote care management, encourages patients to be more active with their own health care, and seamlessly integrates into their daily lives. The eVER-Home kit arrives completely ready to use by the patient, with pre-activated cellular connectivity and includes an interactive tablet with connected Bluetooth medical devices to collect blood pressure, SPO2, heart rate, temperature, weight, pain level, and blood glucose (optional). The tablet also provides live video Virtual Exams with simultaneous viewing of medical data and images between the patient and the care team.
"It is very motivating and satisfying to know we are helping the VCU Health front-line team to keep their patients healthy at a distance in their homes during this high-risk COVID-19 pandemic period," said Mory Ejabat, Founder and CEO of Dictum Health. "They have also been a great partner to help us enhance our solution to support a growing and thriving RPM service program."
The design of the Care Central platform provides centralized and simplified management of a highly scalable network of clinicians, patients, and eVER-Home kits, which is vital to enabling the effective operation of a successful RPM program.
About Dictum Health 
Dictum Health is transforming the way telehealth is delivered to provide the Next Evolution in the Continuum of Care. Dictum Health's Virtual Exam Room (VER) telehealth technology provides immediate access to clinical care through a virtual exam, where clinicians remotely connect to patients using video conferencing and simultaneous viewing of vital signs, cardiopulmonary data, and medical images for immediate assessment and clinical decisions.  Our solutions enable providers to treat, consult, monitor, and manage even their most at-risk patients from anywhere at any time. Visit www.dictumhealth.com.
About VCU and VCU Health
Virginia Commonwealth University is a major, urban public research university with national and international rankings in sponsored research. Located in downtown Richmond, VCU enrolls more than 30,000 students in 233 degree and certificate programs in the arts, sciences, and humanities. Twenty-two of the programs are unique in Virginia, many of them crossing the disciplines of VCU's 11 schools and three colleges. The VCU Health brand represents the VCU health sciences academic programs, the VCU Massey Cancer Center and the VCU Health System, which comprises VCU Medical Center (the only academic medical center in the region), Community Memorial Hospital, Children's Hospital of Richmond at VCU, MCV Physicians and Virginia Premier Health Plan. For more, please visit www.vcu.edu and vcuhealth.org.
Source: Dictum Health
Share:
---
Categories: Healthcare Technology
Tags: COVID-19, Dictum Health, telehealth, VCU Health
---