Dictum Health Announces eVER-HOME an Enhanced Remote Patient Monitoring and Chronic Care Management Platform
Press Release
-
updated: Apr 2, 2019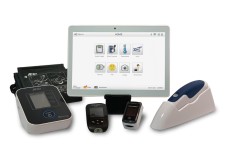 Oakland, CA, April 2, 2019 (Newswire.com) - Dictum Health Inc. – innovators in telehealth's Virtual Exam Room (VER) technology that brings the entire medical team to the point of care – announced today the launch of the eVER-HOME (express Virtual Exam Room – Home), a Remote Patient Monitoring (RPM) and Chronic Care Management (CCM) platform. 
eVER-HOME is a platform that fits home care needs at a drastically lower cost. As part of Dictum Health's VER technology, the eVER-HOME enables videoconferencing with simultaneous data streaming to Care Central for monitoring and assessment by the care team.  
This technology is geared toward healthcare providers motivated to improve patient health, reduce readmissions, lower cost of care, and help patients stay connected with their care team from the comfort of their home. Primary users may include patient populations from pediatric to adult who are monitoring chronic conditions or comorbidities or receiving care.  
"Dictum Health's technology solutions are designed to address an emerging landscape of healthcare in which high-value care delivery is moving out of inpatient settings and distributed across a wide range of sites including patients homes," said Chris Simmons, MD, Chief Medical Officer at Dictum Health. "A well-built system of care organizes clinical services around patients specific needs and integrates care in acute and post-acute settings to produce the most effective, efficient remote patient monitoring platform possible." 
An intuitive easy-to-use, high-resolution touch screen seamlessly integrates into patients daily lives. Medication, monitoring, test compliance alerts, and active trend charts encourage patients to engage with their own health care from home using clinically accurate platforms and peripherals. The platform runs on Bluetooth connectivity, has no wires, requires no setup, and the patient does not need any prior knowledge of how to use the technology.  
"New Centers for Medicare and Medicaid Services (CMS) codes for RPM drive recurring revenue for providers and improve the patient care experience," said Mory Ejabat, CEO and Founder of Dictum Health. "RPM will become an area of significant upside potential over the coming years, and the easily managed eVER-HOME will improve workflow and make staff more productive."  
About Dictum Health 
Experts in mobile, cloud, and clinical sciences, Dictum Health is transforming the way telehealth is delivered by leveraging innovation and quality to provide the Next Evolution in the Continuum of Care. Our solutions give physicians the means to treat, consult, monitor, and manage even their most at-risk patients from virtually anywhere, anytime. For more information visit www.dictumhealth.com. 
Contact 
Taryn Smith, Director of Marketing 
Tel: 510.990.3153 
Email: media@dictumhealth.com 
Source: Dictum Health
Share:
---
Categories: Healthcare Technology
Tags: Dictum Health, eVER-HOME, Remote Patient Monitoring, Telehealth, Telemedicine
---