DFScoin/FantasyGold the CryptoCurrency to Watch in 2018: How One Crypto Project is Partnering With Multiple Industry Leaders on Its Way to Adoption
Press Release
-
updated: Mar 1, 2018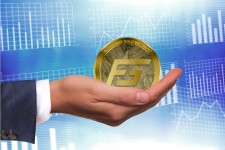 NEW YORK, March 1, 2018 (Newswire.com) - DFScoin, currently re-branding to FantasyGold, has been steadily adding major partnership deals in 2018. This small-cap cryptocurrency project has hit the world by storm and stands to have a massive impact on multiple industries in 2018.
The project has made huge changes in the past year with its top-notch team and aggressive work ethic. Some of the major updates the team is making are as follows:
1. Masternodes are being added once the coin has been swapped to FantasyGold.
(Masternodes present a huge opportunity for investors to receive a passive income while securing the network at the same time.)
2. The project announced it is adding its own exchange and has been working diligently on its completion. The team has already started beta testing the exchange and it is anticipated to be live next month.
3. The team also announced that it will be the title sponsor of the upcoming LVL Up Expo in Vegas, which is one of the major E-gaming expos. This is especially exciting considering that it shows intent from the project to enter the E-gaming industry in addition to fantasy sports.
The DFScoin/FantasyGold project has established its self as an innovative and forward-thinking contributor to the online gaming and cryptocurrency industries. One of the biggest standouts of the project is the constant ability to press forward in a space filled with both controversy and projects that seem to have no use cases or goals. The team continues to show industry leaders why cryptocurrency can and will be the answer for a lot of major issues in the online gaming world and they are listening.
Take a look at some of the partnerships that the project has secured or is working on recently:
1. DFScoin/FantasyGold/DraftDaily.com entered into a marketing partnership with RotoWire.com on 02/01/2018. RotoWire is a long-standing industry leader in the fantasy sports industry.
2. DraftDaily.com and the DFScoin/FantasyGold project were present at the winter 2018 FSTA convention and are members of the FSTA.
3. DFScoin/FantasyGold have signed a contract with RotoBaller.com that is expected to start on the first of April. RotoBaller.com is another long-standing industry leader in the fantasy sports industry.
4. DFScoin/FantasyGold Is the title sponsor for the upcoming LVL Up Expo in Vegas.
5. DFScoin/FantasyGold is also partnered with FantasyData.com to bring its users top-notch player stats on DraftDaily.com.
The upcoming RotoBaller.com partnership is a lot more than just a marketing deal. From what the team has released on this partnership, it is a full working relationship with an extensive list of integrated marketing and player news. The two companies will be working closely with each other in the next year to reach a large user base of fantasy sports players and platforms introducing FantasyGold and its innovative ways to both pay and play to the masses.
Here is a list released by the team on some of the things planned for this partnership:
Run banner ads across the site
Run the sponsored chat room banner ad, pinned to the top of chat room
Create custom DraftDaily chat room for users to discuss platform and DFS lineups
Invite DraftDaily to do live chats with RotoBaller users and promote platform
Invite DraftDaily to RotoBaller's SiriusXM show regularly as guests to promote platform
Live reads on RotoBaller podcasts
Invite DraftDaily to do segments on RotoBaller podcasts and promote platform
Write custom content - a DraftDaily DFS column (with links back) for player picks (at least one per week)
Write custom editor's notes - platform promotion and special offers featured prominently on all articles
Promote all DraftDaily custom content on Twitter and daily RotoBaller email blasts
Include DraftDaily pricing (with links back) in RotoBaller's matchup ratings tools
Include DraftDaily pricing (with links back) in each RotoBaller player news post
Include DraftDaily promo banner in the daily RotoBaller content email
Send dedicated DraftDaily email blasts (at least one per week) to entire email list
Include DraftDaily logo in RotoBaller's footer with a link back
Needless to say, this is going to be a huge partnership. Between live chats, SiriusXM talk show, podcast and a slew of integrated marketing, it is sure to have a huge impact moving forward.
​
All considered DFScoin/FantasyGold is one cryptocurrency project that every investor or crypto-interested party should watch in 2018. Cryptocurrency and blockchain tech stand to greatly change the future in many ways. Even though DFScoin/FantasyGold have so far largely stayed under the radar, they look to be one of a few cryptocurrencies out there that could play a major part in those future changes.
Additional Links:
​https://fantasygold.io/
https://draftdaily.com/                                                                                    
​​https://discord.gg/q5AzA59    
Contact:
​Steven Spooner/Director of Communications
​Email: dfsexplosive@draftdaily.com 
​Phone: 1-800-747-1454                                                                                                                                       
Source: DFScoin/FantasyGold
---
Categories: Investments, Business Finance, Sports-related Business, Cryptocurrency
Tags: bitcoin, blockchain, business, cryptocurrency, e-gaming, fantasy sports, gaming, investment, MLB, NBA, NFL, sports
---