DELRAY Systems Selects 3ntr 3D Printers From Plural AM for Industrial 3D Printing Line
Press Release
•
updated: Jun 23, 2016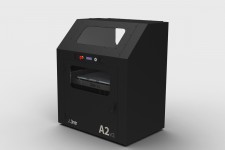 Rochester, MI, June 23, 2016 (Newswire.com) - DELRAY Systems announced today that it has signed a reseller agreement with Plural Additive Manufacturing Inc., to sell and service the 3ntr Industrial 3D printers. The 3ntr Industrial 3D Printer sets a new price/performance standard in the industry for additive manufacturing and meets or exceeds the capabilities of systems that sell for hundreds of thousands more. With precision and reliability as its key components, the systems can achieve near injection molded part quality and has the stringent repeatability to manufacture parts with multiple production grade materials within the same build sequence. This allows small, medium, and large companies to take full advantage of the additive manufacturing process without the compromise and expense of less capable equipment. "After more than 20 years in the 3D printing business and after an exhausting search for something better, we have finally found the diamond in the rough" said Joe Rocca, President of DELRAY Systems. "We are very fortunate to team up with Plural and excited to experience the possibilities that this technology will provide in advancing and replacing traditional manufacturing processes." The A4 and the A2 is truly a game changing technology with some key features that include a large build envelope and 3 liquid cooled print nozzles for multi-material and soluble support printing.
About DELRAY Systems
DELRAY Systems provides process improvement solutions for automating manufacturing, reverse engineering and product development processes. This includes 3D printing or additive manufacturing, 3D scanning, and 3D modeling solutions. DELRAY Systems recently opened a training and technology center at Oakland University Rochester, MI, OUinc facility. Please visit the company's website at www.3d-printer.com or call 248-218-1916.
About Plural Additive Manufacturing, Inc
Plural Additive Manufacturing is a group of industry veterans, each with over 20 years' experience as technology providers in the product design, manufacturing and rapid prototyping fields. We know technology, manufacturing, and business, and we know how to bring it all together. Learn more at www.pluralam.com.
About 3ntr
3ntr is the result of over 50 years of producing industrial automation equipment for synthetic fibers processing, including standard and micronized polymers. Our products are designed, manufactured and assembled by expert machine builders in Italy, choosing local manufacturing companies for stringent quality control. Visit www.3ntr.eu
Source: DELRAY Systems
Related Media