DCM Pre-Weekend Insight - RS01: Spa-Francorchamps
Press Release
•
Sep 20, 2016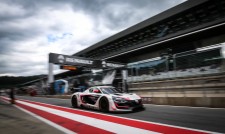 LONDON, U.K., September 20, 2016 (Newswire.com) - ​This weekend marks the penultimate round of the 2016 Renault Sport Trophy (RS01) at Spa-Francorchamps, arguably one of the most anticipated rounds of the season by motor racing fans and competitors. Raoul Owens loves the challenge of this unique circuit – a view that is shared by his engineer and his manager.
Raoul Owens, Driver of R-ace GP [#2]
"Spa is a track that I've always enjoyed going to. It combines great technical corners with fast ballsy corners as well. Eau Rouge is obviously the best part of the circuit for many reasons which most drivers will agree with me I'm sure! I'm looking forward to this upcoming meeting as I feel we can get a great result. Paul Ricard showed we have good pace and that race wins and podiums are possible providing we have no technical issues. I have been working hard myself to improve my performance as much as possible and the team have been doing the same. We know what we want to achieve this weekend and know it is an achievable goal so we will be doing everything we can to get there. There are only two rounds remaining and I want to finish with a good haul of points and end the season well so bring on Spa!"
François Gagneux, Race Engineer to Raoul Owens
"We race at Spa-Francorchamps this weekend, the most challenging track of the year. We haven't completed tests there earlier in the season but it's the only track of the 2016 schedule already present in 2015. We scored a pole position on this track last season so we have good data and video resources to work from. We will be using the new specification of Michelin slick tyres that Raoul has adapted very well to.
"We are hungry for victories following Le Castellet disillusions. During the Endurance race, Raoul started his stint in second position at four seconds from the leader and managed to catch him in only three laps. Unfortunately, his gearbox started to suffer from internal troubles preventing him from overtaking and condemning him to settle to the second place… And finally worse than that, his gearbox totally stopped working on the final lap. It was such a disappointment for the whole team considering all the good work Raoul had done during the weekend. The weather forecast for Spa isn't 100% optimistic for the moment, so this weekend may be the occasion for Raoul to show us his wet driving skills, which he demonstrated to us during winter testing."
Henry James, Driver Manager to Raoul Owens
"Raoul has reason to look forward to this race weekend in Belgium. Spa is a track that all drivers dream to race on and Raoul will also enter the weekend knowing that his pairing with teammate Fredrik Blomstedt from the RS01 Amateur category gives a strong possibility to avenge their misfortune at Paul Ricard last month. Having suffered a gearbox failure on the final lap which lost them a P2 finish, I hope the damage has been done and both drivers will have their chance to excel without mechanical problems this weekend.
"At this time in the year, we are naturally assessing how best to maximise Raoul's racing experience and achievements from 2016 to develop the optimal career path for 2017 and beyond. Being amongst the Top 5 quickest drivers this year, the Renault Sport Trophy has made Raoul a very attractive and well-rounded prospect for leading teams in various LMP and GT series around the world."
At 7km in length, Spa-Francorchamps is well over a kilometre longer than any other circuit on the 2016 RS01 calendar. The clockwise rotation of the wildly undulating tarmac will expose drivers to high levels of vertical G-forces as well as the more usual longitudinal and lateral forces experienced by RS01 drivers on other circuits.
The most popular part of the circuit is the Eau Rouge and Raidillon corner combination. These are fast-flowing corners that drivers have to negotiate after a short straight leading to the point where the circuit crosses the Eau Rouge stream for the first time. As the driver commits the entry line into the left-hander (Eau Rouge), he/she is compressed downwards into the seat as the circuit rises uphill steeply and immediately veers to the right-hander (Raidillon). This sequence of left-right corners continues directly into a blind left-hander at the top of the ridge and all this ground is covered in a matter of seconds at break-neck speed.
The rest of the lap continues with more adversities such as chicanes, hairpins, and fast downhill corners such as Pouhon, which also includes bad camber just for good measure. This circuit is one of legends and unsurprisingly the personal favourite of Formula One driver Kimi Raikkonen. The climate becomes the final frontier for drivers and engineers to confront, as the weather at Spa can often turn from rain / shine within minutes.
At the time of publishing, rain showers are predicted either side of this weekend, so weather forecasts will be scanned regularly by all RS01 participants. Raoul last raced at Spa in a single-seater, but this time it will be with more horsepower and more downforce!
Watch live at www.youtube.com/renaultsport
Source: DCM
Related Media
Additional Links