Dave Pratt's Star Worldwide Networks Chosen as Official Media Sponsor of Infusionsoft's ICON16 Conference
Dave Pratt and Star Worldwide Networks are excited to announce they have been chosen as the official media sponsor of Infusionsoft's 10th annual user conference, ICON16.
Press Release
-
Mar 1, 2016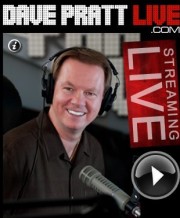 Scottsdale, AZ, March 1, 2016 (Newswire.com) - ICON16, held at the Phoenix Convention in Phoenix, Arizona from March 2 – 4, 2016, brings together ambitious small business owners with leading industry experts to deliver results oriented keynote addresses and informational sessions aimed at increasing sales and marketing success.
Infusionsoft is a software provider leading the small business success movement. Infusionsoft's software combines CRM, marketing automation, e-commerce and payment solutions with a vibrant marketplace of apps, integrations and partners to help small businesses achieve scalable results and sales growth. Infusionsoft's wide range of flexible business solutions is perfect for the dynamic and ever-changing small business world. 
The three-day ICON conference is the most cost-effective way for small business owners to grow their business. Thousands of small business owners and entrepreneurs come together at ICON to network, share information, and learn what it takes to achieve success. With vendor exhibits, keynote addresses, and the all-new, step-by-step proven success method and plan by Infusionsoft, the ICON conference promises an incredible return to attendees.
Infusionsoft has partnered with Dave Pratt's Star Worldwide Networks to promote and spread awareness of the event. Star Worldwide Networks brings veteran broadcasters, celebrity personalities, and radio beginners together under one roof. The network is home to over 150 shows, provided across multiple languages, which are available LIVE and on demand anywhere in the world through their sophisticated and easy to use app.
The media power of Dave Pratt's Star Worldwide Networks has combined with the content rich, deeply informative ICON16 conference to deliver what is sure to be the biggest business event of the year.
"I am honored that we have been chosen as the official media partner of Infusionsoft's ICON16 conference. Infusionsoft's commitment to helping small business thrive is something that I truly believe in. I am happy to place the media power of Star Worldwide Networks at their disposal. Together, we will be able to change lives by helping small business owners achieve real results," said Dave Pratt, the owner of Star Worldwide Networks.
To enroll at ICON simply click here. Register now to receive a $299 training credit.
To learn more about Dave Pratt and Star Worldwide Networks, visit:
http://www.starworldwidenetworks.com/
To explore everything Infusionsoft has to offer, visit:
Share:
---
Categories: Internet and Streaming Media, Radio, Small Business
Tags: broadcasting, digital media, icon 2016, infusionsoft, internet media, internet radio, radio, small business
---