Dave Pratt and CW6 Announce Partnership and Upcoming Television Show
Dave Pratt, Hall of Fame media personality and owner of Star Worldwide Networks, is excited to announce a new partnership with the Nexstar Broadcasting Group and KASW-TV for an upcoming, daily television show to air on CW6, every afternoon Monday through Friday from 3-4pm.
Press Release
-
May 26, 2016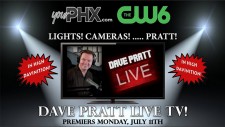 Scottsdale, AZ, May 26, 2016 (Newswire.com) - ​Dave Pratt has been commanding the airwaves in Phoenix for over three decades as "The Morning Mayor". From his 20 years on KUPD where he created the Big Red Radio to being the Phoenix drive-time partner of Howard Stern, to leading KMLE Country as a CMA nominated national personality, Dave Pratt has long been a radio institution. Dave Pratt in the Morning routinely achieved #1 ratings and revenue across both rock and country formats before elevating to worldwide distribution with Dave Pratt Live on Star Worldwide Networks. The partnership with CW6 promises to offer Dave Pratt's loyal following a show that is free-spirited and fun with Dave Pratt's trademark insight, sarcasm and bite.
CW6 is already home to great shows like Supernatural, Arrow, Flash, and the 2 Golden Globe winners, Jane the Virgin and Crazy Ex-Girlfriend. In addition to the perennial favorites in syndication like The Simpsons, Mike and Moll and Two and A Half Men, CW6 produces some of the most innovative local programming in the market with Politics In The Yard, recent winner of a National Telly Award for Best local Political Show and the :30 Download, news and lifestyle reports at the top of every hour.   
Dave Pratt's addition to the station's already rich line-up gives CW6 one of the most notable local personalities in the history of Arizona.  Dave Pratt Live on TV is sure to stir up the market.   
Denise McManus, Vice President and General Manager of CW6, when asked about the exciting new partnership had this to say, "When Dave and I first met it was nothing short of love at first sight!  (Nothing to be worried about Mrs. Pratt!)  We had an immediate respect and trust for one another, and we knew we wanted to do something different in the world of stale television by making it local again.  Dave is going to deliver a special twist and a different dynamic to our afternoon programming. "
Dave Pratt adds, "Denise is an independent thinker and a bold, creative leader.  Other TV and morning radio offers bored me with the same old robotic shtick.  They are all the same.  Well, thanks to Denise and CW6, I now have complete freedom to do the TV show that my loyal followers deserve.  Even better, the show will be produced daily on my home turf at our awesome Star Worldwide Networks video studios."
Dave Pratt Live features many newsmakers and celebrity interviews.  As one of the world's greatest interviewers, Larry King says "Dave does a sensational job. Dave is a great credit to a great industry."  Pratt's 35-year producer, Rob Trygg, adds "Dave is so natural and casual that people overlook his interview skills. He is one of the very best." 
Entertainment mogul Dan Harkins sums it all up. "As Arizona's original shock jock, Dave Pratt not only reinvented Arizona media, he has proven to be Arizona media's most resilient and longest-running champion."
Dave Pratt Live on TV will premiere Monday, July 11th at 3PM and will air Monday through Friday with a "Best of Dave Pratt Live" to air each weekend.   
For the home of CW6 visit: www.yourphx.com
To learn more about Dave Pratt's Star Worldwide Networks visit: www.starworldwidenetworks.com
Source: Star Worldwide Networks
Share:
---
Categories: Television, Entertainment, Television Programs
Tags: entertainment, partnership, partnerships, radio, television, tv show, tv shows
---