Dataspeed Inc. Joins the 'Automated With Velodyne' Ecosystem
Press Release
•
updated: Jul 22, 2020
Dataspeed announced as an official autonomous vehicle integrator of Velodyne Lidar.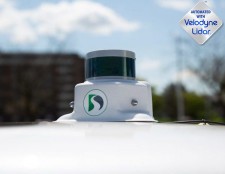 DETROIT, July 22, 2020 (Newswire.com) - ​​Dataspeed Inc., a leading drive-by-wire provider and autonomous vehicle (AV) solution developer, has announced they've joined Velodyne's partner ecosystem, "Automated with Velodyne". This collaboration emphasizes Dataspeed's longstanding engineering experience with Velodyne Lidar technology and positions them as an official, recognized sensor integrator.
Over the last 12 years, Dataspeed has evolved from a small mobility base robotics company, to a market leader in drive-by-wire kits, to a complete autonomous vehicle systems integrator. Their experienced team of mechanical, electrical, and algorithm engineers display deep knowledge of the hardware and software systems required to reach level 4 autonomy.
The Dataspeed team has extensive history utilizing Velodyne Lidar in their by-wire fleet integrations for Fortune 100 customer projects and large-scale automotive industry demonstrations. Their expertise with the lidar technology encompasses custom mounting solutions, sensor calibrations, and autonomous software development.
"Velodyne's lidar technology is frequently requested by our customers for integration projects - and for good reason," said Paul Fleck, Founder and CEO of Dataspeed. "Their sensors generate advanced perception with high quality performance. Joining Velodyne's ecosystem will allow us to partner more closely to further provide outstanding integration solutions to the autonomous market."
"We are pleased to welcome Dataspeed into the Automated with Velodyne ecosystem," said Jon Barad, Vice President of Business Development at Velodyne Lidar. "Their use of our lidar sensors in the many innovative autonomous vehicle projects has been exciting. We have enjoyed working closely with Dataspeed and are eager to continue to include their voice in our ecosystem to help continue to grow the AV industry."
Dataspeed's sensor integrations have enabled autonomous vehicle deployments in a wide range of industries, including AV startups, research institutions, mining operations, government, and logistics. Dataspeed's inclusion in the Velodyne ecosystem will promote market expansion by alignment with one of the leading sensor providers.
About Dataspeed Inc.
Dataspeed Inc., located in Metro Detroit, provides complete autonomous research and development vehicle integrations that allow engineers to get up and running quickly on their algorithm, sensor, or data research. Dataspeed's automotive grade by-wire solutions form the foundation of these platforms. Hundreds of customers have trusted Dataspeed's team of expert software and hardware engineers with their driverless car projects, including sensor developers, software companies, mobility-as-a-service providers, teleoperators, and universities. Dataspeed is dedicated to building innovative AV solutions that are safe, reliable, and cost-effective.
For more information, visit https://www.dataspeedinc.com
Media Contact
Heidi Bodell
marketing@dataspeedinc.com
Source: Dataspeed Inc.