Dash Enterprise 5.2 Enhances the Data Application Development Experience
Press Release
•
Nov 16, 2023
Plotly's upcoming release introduces new developer-oriented features, including Dash Enterprise CLI, Shortcuts with shareable Deep Links, Viewer Analytics, and refreshed app themes.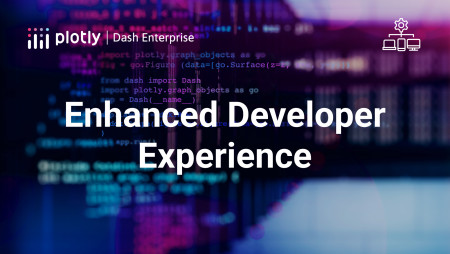 MONTREAL, November 16, 2023 (Newswire.com) - Plotly shares details of an "enhanced development experience" highlighted in the upcoming Dash Enterprise 5.2 launch. This release introduces new features built to simplify day-to-day developer workflows.
Dash Enterprise, trusted by large enterprises including many Fortune 500 companies, empowers data scientists and analysts to rapidly deliver interactive Python data apps. The platform reduces dependence on IT by providing a low-code experience, allowing data teams to focus on model-building and insight generation.
As part of the enhanced development experience, data teams can more quickly build, deploy, and scale their data apps within the platform. The features bundled under this new Dash Enterprise version include:
Dash Enterprise Command Line Interface (CLI): a tool that allows users with limited-to-no Git experience to deploy to Dash Enterprise with a single command. For more advanced users, the Dash Enterprise CLI introduces new ways to automate Continuous Integration / Continuous Delivery (CI/CD) pipelines. The feature simplifies deployment and management workflows, eliminating the need to handle access credentials during setup.
Dash Enterprise Shortcuts: an intuitive toolbar that displays the viewer's username and offers one-click access to the App Manager and Portal. This feature also creates shareable URLs, known as Deep Links, so users can easily send current and filtered views of data apps to team members.
Dash Enterprise Viewer Analytics: a built-in monitoring dashboard that enables data teams to track individual application usage within a custom time frame and ensure organization-wide adoption of data applications. This feature is enabled by default and requires no additional coding or configuration to be activated.
New app design themes: a revamped graphical user interface to control branding and aesthetic details of data applications. With this update, customized popular themes are available within the Dash Enterprise Design Kit as out-of-the-box presets without any additional coding.
Reflecting on these new features, the company's Chief Product Officer and Co-Founder commented: "We've had extensive conversations with Plotly community members and customers to better understand what they need from an end-to-end data application platform. With the new features from Dash Enterprise 5.2, we are ensuring that data teams can deliver better apps, faster." - Chris Parmer, Plotly
To learn more about the enhanced developer experience and explore Dash Enterprise 5.2, contact Plotly or schedule a demo today.
Source: Plotly Technologies Inc.