Darrell Troppy Announces Upcoming Art Exhibit at Finder's Fayre Contemporary Local Artist Show Series
Press Release
•
updated: Nov 21, 2017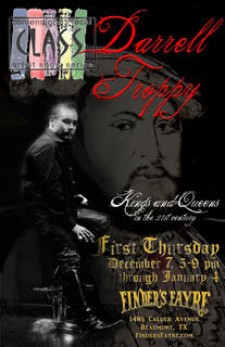 BEAUMONT, Texas, November 21, 2017 (Newswire.com) - Darrell Troppy, multi-medium contemporary artist most notable for his work at the Carrousel Eastern and Western International Art Exhibit at The Louvre-Paris, France, announces his upcoming art exhibit for Finder's Fayre's Contemporary Local "CLASS" Artist Show Series. An artist who specializes in the encaustics, Troppy's upcoming collection will feature the best of his multi-layered, encaustic visions. This collection is elegant and eclectic, featuring a variety of genre-art, still-life and abstract works. Inspired by the age of kings and queens, Darrell compels his subjects to address today's age of gender equality.
Troppy, a Texas native, will be part of "CLASS" as it features local Beaumont, Texas, artists and visionaries. An artist who has showcased his work internationally, Darrell Troppy has mastered every style that has played a part in his own, unique art. Troppy said:
"It's [art] the one thing that I know that has never left me. If you locked me up I would find a way to do something artistic, perhaps paint on the floor? It never leaves you. You'd become less whole. I think every artist experiences this feeling more than once in their life. You pray, you wish and you hope that feeling never leaves you - the passion that wakes you, the driving force and the reason you exist. The getting old part is the part no one explains or teaches you, yes, it's human and part of the process, but retirement doesn't happen when you're 65. You don't throw your brushes down and say, 'Ok I'm RETIRED'; it's until death do you part - somewhat of a marriage, that is if it truly is your soul's PASSION."
Troppy's works will appear at Finder's Fayre Dec. 7-Jan. 4. Art will be on display for the entire month. Troppy will make an appearance for a meet-and-greet on opening and closing nights, from 5-9 p.m.
About Darrell Troppy
Darrell Troppy is a creative artist who specializes in the encaustic approach to creating artwork with the use of beeswax and other unique mediums. Some of Troppy's collections have been showcased at The Art Connection Gallery in Palm Springs, California, and the KBR Tower in Houston, Texas. In 2014, Troppy was invited to participate in the Carrousel Eastern and Western International Art Exhibit at The Louvre-Paris, France. Troppy was the only American artist selected to participate in the entire competition. He received a trophy award for "Most Creative Artist" and three certificates for "Outstanding Accomplishments" in various categories. http://www.dtroppy.com
About the Exhibit: Darrell Troppy CLASS Slideshow https://youtu.be/X7tVHoSTvYo
About Finders Fayre: Finder's Fayre is a Beaumont, Texas, favorite providing art and antiques to the art-enthusiast for over 52 years. http://www.findersfayre.com/index.html
Media Inquiries: RCW Media Group | Casandra Walker | casandra@rcwmediagroup.com
Source: Darrell Troppy
Related Media