D9 THC Nerd Ropes Are Now Part of The Hemp Doctor Family
Press Release
•
Feb 1, 2023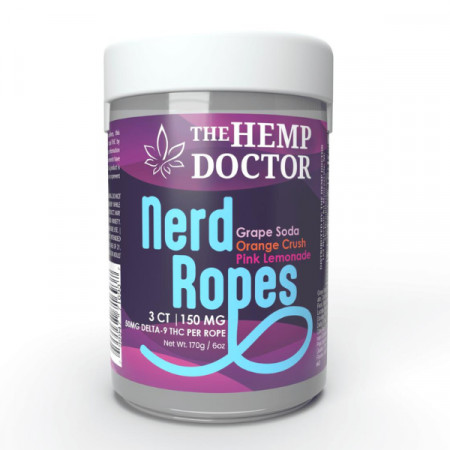 MOORESVILLE, N.C., February 1, 2023 (Newswire.com) - Attention cannabis nerds, aka enthusiasts. Just when consuming cannabis would not get any more exciting, The Hemp Doctor launched a new Delta 9 THC product — D9 THC Nerd Ropes.
Go back in time with The Hemp Doctor's dispensary-grade D9 THC Nerd Ropes. With these new Delta 9 treats, satisfy the sweet tooth, the endocannabinoid system, the body, and the mind — all at once.
Delta 9 adds a layer of relaxation to a delicious and nostalgic experience and is excellent for innovative cannabis consumers. Nerd Ropes offer a flavorful crunch and an ensemble of various flavors. Combining gummy ropes and crunchy sweet candy, these fun and innovative cannabis candies are sure to please tastebuds and become a favorite THC treat.
These potent cannabis edibles are loaded with 50mg of Delta 9 THC per piece. Best of all, they can easily break into pieces to get several servings out of one. D9 THC Nerd Ropes are available in the following flavors:
Pink Lemonade
Orange Crush
Grape Soda flavors
Each jar contains three ropes in three flavors and packs 150mg of hemp-derived D9. Nerd Ropes are perfect for on-the-go consumption or any outdoor, relaxing day. Consumers should ensure to start with smaller doses until they determine the amount that works best for them.
The Hemp Doctor D9 THC Nerd Ropes are made using premium Delta 9 THC distillate, so be prepared to be taken back to your younger days.
Warning: 50mg per piece. Keep out of reach of children
Servings per rope/piece: 4
About The Hemp Doctor
The Hemp Doctor is avid cannabis consumers' top destination for potent and premium products. America's premier hemp dispensary has earned a reputation for providing innovative and future-minded products that offer the best consumer experience and match the needs of various consumers.
The Hemp Doctor's ever-evolving product lineup provides the best the industry has to offer, with a selection suitable for newcomers and experienced cannabis users alike.
Shop for Delta 8, Delta 9, HHC, THC-O, CBD, CBG, CBN, and pet products. Every cannabinoid at The Hemp Doctor comes from a premium phytocannabinoid-rich hemp grown in the nutrient-rich soils of Colorado and North Carolina using only 100% organic practices. The Hemp Doctor oversees every production stage until the end and backs up the label and quality claims with independent laboratory testing. All test results are available online on the company's website.
CONTACT THE HEMP DOCTOR
Alongside innovative and premium products, The Hemp Doctor is customers' go-to for the latest industry information. For questions about the content of this release, please reach Robert Shade with any questions or interview requests.
Source: The Hemp Doctor